Thursday September 08, 2022
US State Department Delegation Meets FM Bilawal Bhutto Zardari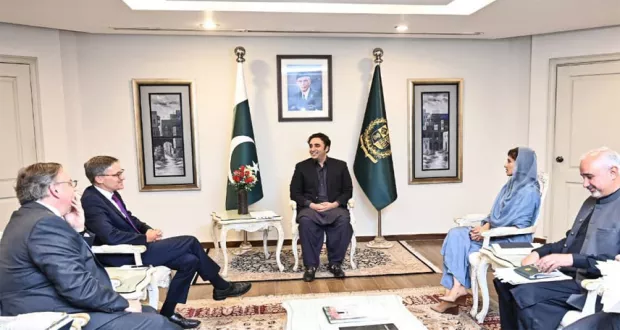 Islamabad: Pakistan and United States have agreed to strengthen bilateral relations in diverse fields.
The agreement was reached at a meeting between Foreign Minister Bilawal Bhutto Zardari and US Department of State's Counselor Derek Chollet in Islamabad on Thursday.
Talking to state media after the meeting the Foreign Minister said Pakistan-US relations are heading in the positive direction.
Bilawal Bhutto Zardari expressed his gratitude to the US for extending the support and solidarity with Pakistan in this difficult time.
He expressed confidence that the two countries will also work together on the broader agenda of climate change and the rebuilding infrastructure in a way that withstands these climate shocks.
Speaking on the occasion, Derek Chollet said the US fully recognizes that devastation caused by flood will be a long term challenge for Pakistan. He said the US is also Pakistan's long term partner and will help it recover from the floods and announce more assistance in addition to 30 million dollars already announced.
He said his country is also looking forward to working with Pakistan to build a strong relationship.