Friday November 11, 2022
Three SC Judges Take Oath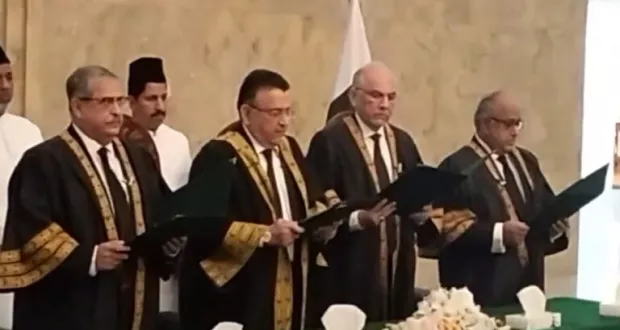 ISLAMABAD: Three newly-appointed judges of the Supreme Court (SC) took oath today. Chief Justice of Pakistan (CJP) Umar Ata Bandial administered oath of office to Justice Syed Hasan Azhar Rizvi, Judge of Sindh High Court, Justice Shahid Waheed, Judge of the Lahore High Court, and Justice Athar Minallah, Chief Justice of Islamabad High Court.
President Arif Hussain Alvi on Wednesday signed the summary recommending to elevate three judges to the Supreme Court under Article 175A of the Constitution including Justice Athar Minallah, Justice Shahid Waheed, and Justice Syed Azhar Rizvi.
It may be recalled that the Judicial Commission of Pakistan (JCP) headed by Chief Justice of Pakistan Umer Ata Bandial, being the chairman of the commission, had approved the elevation of three judges of high courts to the Supreme Court.
The post Three SC Judges Take Oath appeared first on Abb Takk News.