Thursday November 03, 2022
Three Persons Are Involved In Attack On PTI Container Inducing PM Shahbaz : Asad Umar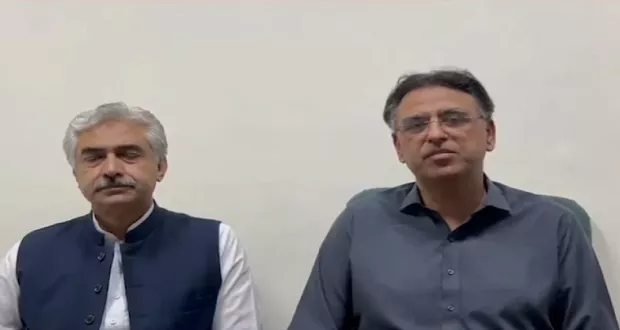 Wazirabad: Secretary General of Pakistan Tehreek-e-Insaf (PTI) Asad Umar has apprised that his party chief Imran Khan, who is injured in the attack on his container, has informed him names of three people who he believed that are involved in the attack on the PTI leadership container in Wazirabad this evening.
In his video message, Asad Umar further informed that Prime Minister Shahbaz Sharif, Interior Minister Rana Sanaullah and an army officer are involved in the attack.
The PTI secretary general said that Imran Khan in his stay in hospital called him and provincial minister Aslam Iqbal and apprised the names of three persons involved.
Asad Umar informed" Imran Khan was receiving information in advance and on basis of it he informed us three persons names which are involved in the attack."
Asad Umar further apprised that we informed Imran Khan that there can be security risk but Imran Khan said that we should left the matter on God as we are on Jehad (on struggle).
The provincial minister Aslam Iqbal said that we are going to lodge an FIR of the incident against these accused.