Sunday October 17, 2021
T-20 World Cup: Bangladesh Invite Scotland To Bat First After Winning Toss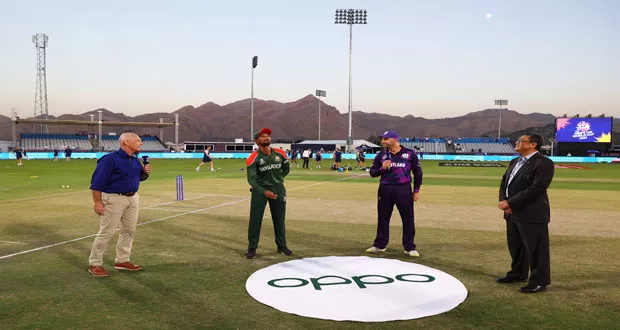 Muscat: Bangladesh won the toss against Scotland at Muscat in the today's second match of the day.
The Bengal tigers invited Scotland to bat first after winning the toss. This the second match of T-20 qualifying round.
In first match today Oman defeated Papua New Guinea by 10 wickets
International Cricket Council (ICC) short format (T-20) cricket world cup has commenced today while as many as 45 matches will be played between teams of 16 countries.

United Arab Emirates (UAE) and Oman are hosts of the tournament. Eight teams are facing each other in group stage including Sri Lanka and Bangladesh.
Total teams of 16 countries teams are participating in the cup out of which eight teams have already qualified for super 12. While other remaining eight teams will play first round. Out of these eight four teams will qualify for second round super 12.

Super 12 round will be played between 12 teams from October 23.

Pakistan, India, Australia, England, New Zealand , South Africa, West Indies and Afghanistan are the teams which already have qualified for super 12.

Ireland, Namibia, Netherland, Srilanka, Bangladesh, Oman, Papua New Gunea and Scotland which will play first round.

The first match of the tournament played between host country Oman and Papua New Guinea while Bangladesh and Scotland will face each other in second match.

Pakistan will play its first match against its arch rival India on October 24 (Sunday).

First semi final of the tournament will be played on November 10 at Sheikh Zaid stadium Abu Dhabi while second clash of semi final will be played at Dubai International Stadium, Dubai.
Final of the T-20 world cup will be played on November 14 at Dubai International Stadium, Dubai.