Monday April 18, 2022
Shahbaz Sharif Will Fix Match By Appointing Officers Of their Own Choice: Imran Khan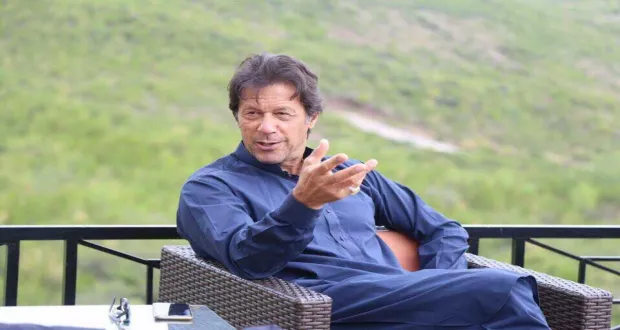 Islamabad: Chairman Pakistan Tehreek-e-Insaf (PTI) on Monday said that we have learnt a lesson by giving tickets to allied parties adding that allied parties should not be included in the government.

Talking to journalists at his residence Bani Gala to the journalists, he said that whatever taken from the tausha khana are all on the record.
He said that last time we didn't deliberate upon on distributions of tickets for elections, now this time he will himself award tickets by judging and scanning every person.

Former captain of Pakistan cricket team, said that the conspiracy was made against him when things were getting better adding that his fight is against the mafia who is taking prices upward.

The ex-premier said that changes were brought in Federal Investigation agency (FIA) while those officer conducting investigation of a mammoth amount of Rs 24 billion are being changed.
He doesn't have any personnel enmity to any one. He said that a reference against Qazi Faiz Essa was wrong it was sent by law ministry.
On a query on Farah Khan, Imran Khan said that she don't have any post or ministry, how had she taken gifts adding that if someone has evidence then bring it on surface .
He said that whatever he took from tosha khana are on record adding that a foreign president had given him a gift visiting his house even that was submitted to tosha khana.
Regarding the PTI rallies, ex-premier said that the number of people who participated in Peshawar and Karachi rallies were never seen before in Pakistan .
Regarding the PML-N, he said that whenever they play they bring umpire with them while he requested the nation not to admit them.

On a query, Imran Khan said that the appointment of chief election commissioner (CEC) should be carried out through a independent body while existing CEC was appointed by the establishment.

The campaign against the Pakistan army on the social media, he said that he will not say anything which incur loss to the country adding that we needed powerful army.

He said that Shahbaz Sharif has started engineering on very start of his government. He said that he will fix the match by appointing officers of their choice adding that they wanted that cases on Nawaz Sharif could be ended.