Monday January 09, 2023
Punjab Assembly Saw Commotion As Session Marred By Sloganeering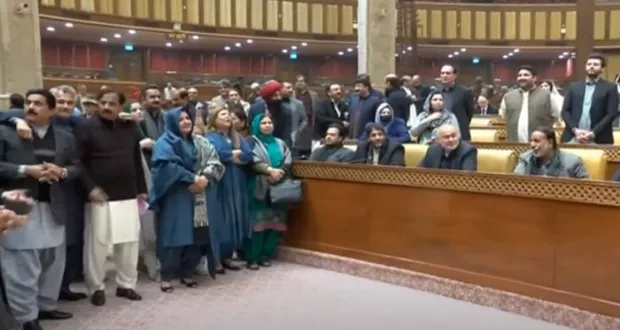 Lahore: Punjab Assembly on Monday witnessed ruckus after treasury and opposition benches raised slogans against each other .
The politically divided house met amid the political crisis over the dissolution of assembly debate.
PML-N senior leaders including Rana Sanaullah and Ataullah Tarar reached the assembly to attend the session.
Prior to the session, the major political opposition parties including Pakistan Muslim League – Nawaz (PML-N) and Pakistan Peoples Party (PPP) and treasury party – Pakistan Tehreek-e-Insaf (PTI) – held meetings to deliberate on the ongoing political situation.
As it commenced, the proceeding was marred by sloganeering by opposition lawmakers. In response, the treasury benches did the same.
The opposition MPAs tore up agenda copies.
The political tussle in the Punjab has deepened as the Punjab Chief Minister still hasn't taken the vote of confidence from the assembly. The hearing of his de-notification case is due on January 11 in the Lahore High Court (LHC).
The Punjab Assembly session has now been adjourned until 2pm on Tuesday.
The PA bulldozed some 26 bills including Public Defenders Service Punjab 2023 Bill, Punjab Food Authority (PFA) Amendment Bill 2023, Unwanted Cooperative Societies Punjab Amendment Repeal Bill 2023, and Public Sector Universities Amendment Bill 2022.
The post Punjab Assembly Saw Commotion As Session Marred By Sloganeering appeared first on Karachi News.