Monday December 12, 2022
PTI's Four Years Tenure Was Period Of Political Victimization: PM Shahbaz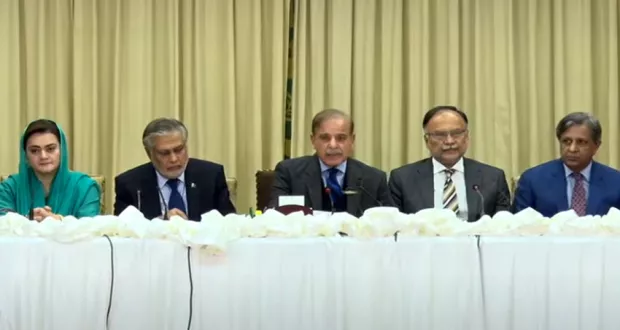 Islamabad: Prime Minister Shehbaz Sharif says UK newspaper Daily Mail's unconditional apology is a success of Pakistanis especially those poor children and mothers who were benefiting from the aid money that was targeted.
Addressing a news conference in Islamabad on Monday, along with Federal Ministers Finance, Ishaq Dar, Planning Minister Ahsan Iqbal, Law Minister, Azam Nazeer Tarrar and Maryam Aurangzaib, he said it was such a heartless campaign initiated by PTI that they didn't bother to think about dignity of the country in their malice of defaming the Sharif family.
The Prime Minister said this malicious campaign also damaged Pakistan as mistrust was created regarding any funding to our country.
He said Daily Mail's article mentioned that money amounting to 600 million pounds by DFID to Punjab during 2008 to 2018 was laundered by Shehbaz Sharif and his children.
He said contrary to that, the money was used transparently, and after I sent legal notice to the paper, it lingered litigation for three years but finally this episode ended up in an unconditional apology.
Shehbaz Sharif said PTI's four years tenure was a period of political victimization.
He said PML-N led coalition has kept national interest above political interest and saved the country from default.
The Prime Minister said we tried to give subsidy to poor people and 1800 billion rupee Kissan Package is an example of that.
He added that the government is strenuously working to rehabilitate the flood affected people which is a big challenge.
He rejected any threats of country's default.
 The PM said that the unconditional apology by the British publication Daily Mail was a vindication of the 220 million of Pakistan which also thwarted an anti-state conspiracy hatched by Imran Khan and his cronies.
"Finally, after three years, they (Daily Mail) tendered an apology, not from me but all of you. It was an apology from 220 million of Pakistan and from millions of those mothers and children who were benefiting from DIFD projects to support their food and health," the prime minister said addressing a press conference here along with the cabinet members.
The prime minister said the onslaught was only meant to defame him, Nawaz Sharif and the Pakistan Muslim League-Nawaz.
"He (Imran Khan) was so callous to never think that it will not only malign Nawaz Sharif or Shehbaz Sharif rather it will hurt Pakistan's reputation," he remarked. The newspaper also published its apology in Sunday's print edition, he added.
He told the media that DFID project's amount of 600 million pounds was spent transparently and the allegations were also contradicted by the DFID itself.
"Consequently, the country was mocked and a message was conveyed that Pakistan should not be given aid or grant," he said.
He said despite the passage of three years, Shahzad Akbar failed to produce documents to substantiate his allegations which also led to his (Shehbaz Sharif) vindication by the NCA.
He said by selling a specially-designed watch containing Holy Kaaba's model, gifted by Saudi Crown Prince, Imran Khan committed the "cheapest act."
He emphasized the investigation as how the former prime minister destroyed the national economy, foreign relations, and strained ties with brotherly countries.
He also mentioned an article published by the Financial Times alleging Imran Khan of spending donations collected for Shaukat Khanum Hospital on his politics.
He said in his government, Imran Khan got arrested even by female politicians like Maryam Nawaz and Faryal Talpur but contrarily, gave an NRO to his own sister through FBR who had committed misdeclaration.
The prime minister told the media that the incumbent government inherited a shaken economy and that they had to beseech the IMF which was not ready to trust Pakistan after the previous government deviated from the commitments.
He said by passing the burden of the oil price surge to the masses, the incumbent government sacrificed its politics in the state's interest as the previous government had laid a trap for their government by announcing no price hike.
The post PTI's Four Years Tenure Was Period Of Political Victimization: PM Shahbaz appeared first on Abb Takk News.