Monday September 05, 2022
PTI To Expend Rs One Billion In Sindh As It Affected By Floods The Most: Imran Khan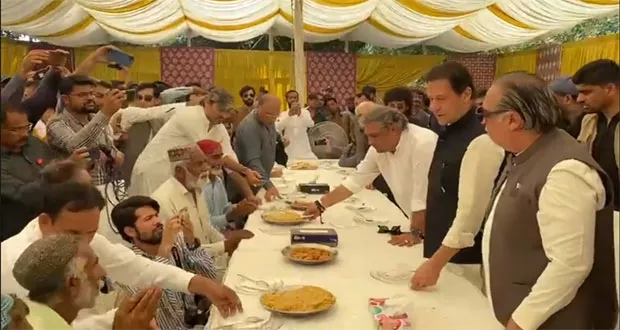 Sukkur: Pakistan Tehreek-e-Insaf (PTI) Chairman Imran Khan has said that Rs one billion will be spent on Sindh from the funds collected in the telethon for the flood victims.
Addressing the party activists in Sukkur, the ex-premier said that we have to defeat the PPP co-chairman Asif Ali Zardari as he has an illenss of plundering the money.
The PTI chief said that he will hold another telethon for raising the funds for the flood victims across the country.
Imran Khan said that he will make dams for storage of water while he apprised the masses that when water will be stopped then it will harm the land.
The PTI head said that he will plant as many as one million trees to avoid climate change while he said that he will visit every district of Sindh and we will not leave people of Sindh on the mercy of Asif Zardari.
He said that next time in his reign, Asif Ali Zardari will be arrested adding that Haleem Adil Sheikh is an opposition leader and he was resorted to cruelty.
Earlier, when the PTI chief reached Sukkur, the PTI Sindh president Ali Zaidi welcomed him. Imran Khan visited a relief camp situated at Shikarpur road set up by the party wherein he met the flood victims and feed them lunch.
The PTI cheif also distributed neccesary goods including ration to the flood victims.
Imran Khan also called on the party leaders at Jatoi house which included Arbab Ghulam Rahim, Liaqut Jatoi, Ghous Bakhsh Mehar, Ali Zaidi and other attended.
The PTI leaders briefed Imran Khan regarding floods and areas affected by the rains and floods.