Friday January 20, 2023
PTI MNAs Arrival At NA, Try To Meet Speaker NA But Not Get Permission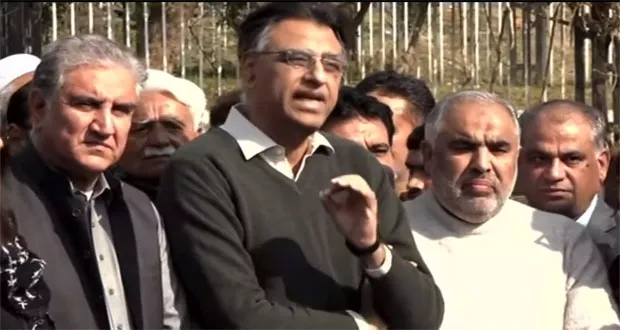 Islamabad: Pakistan Tehreek-e-Insaf (PTI) members of National Assembly (NA) on Friday tried to meet Speaker NA Raja Pervez Ashraf.
The PTI MNAs arrived at the parliament house after the Speaker NA accepted more 70 resignations of the PTI today.
They reached after the party consultative session in Islamabad in the chair of vice-chairman Shah Mahmood Qureshi.
But, the PTI MNAs didn't get permission to enter the parliament as security guards stopped them entering the NA.
The former speaker Asad Qaiser insisted and asked, has the Speaker directed to stop us entering the NA?
On the other hand, vice-chairman of the PTI Shah Mahmood Qureshi called speaker name and asked where are you the Mr Speaker?
The ex foreign minister Qureshi said that resignations of other MNAs also be accepted. He went on to say that the rulers will amplify the tenure of the NA till ending their cases.
Pakistan Tehreek-e-Insaf (PTI) has decided to withdraw its MNAs resignation from the National Assembly.
The decision has been taken in the party's consultative meeting today.
The party decided that all the resignations of the PTI MNAs be accepted or if resignations were not accepted then opposition leader slot and Chairman PAC seat be given to the PTI.
Earlier in the day, the speaker has approved resignations of 35 MNAs of the PTI today while the speaker had approved resignations of 35 MNAs of PTI on January 17.
The speaker NA has approved so far resignations of 70 MNAs. Sources said that vice-chairman of the party Shah Mahmood Qureshi asked the party MNAs will you return back to the NA?
The PAC chairmanship and the position of opposition leader will also be discussed with the Speaker.
The post PTI MNAs Arrival At NA, Try To Meet Speaker NA But Not Get Permission appeared first on Abb Takk News.