Monday July 04, 2022
PTI Demands Forensic Test Of Phone Tapping Of Bushra Bibi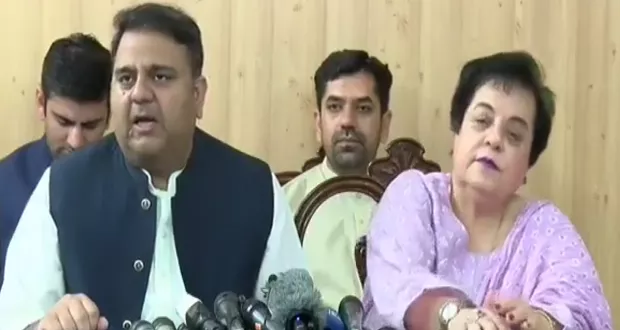 Islamabad: Pakistan Tehreek-e-Insaf (PTI) on Monday demanded a forensic test of phone tapping of wife of Imran khan Bushra Bibi.
Fawad Chauhdry and Shereen Mazari were holding a presser in Islamabad, Shireen Mazari said that forensic of phone tapping of Bushra bibi will tell us is it real or fake.
Former human rights minister said that according to SC phone tapping is illegal while she said that all the conversation conducted by cut and paste.
Shereen Mazari said that there is no political conversation while a government threw out from power due to the this reason.
She demanded the SC to take notice of phone tapping of Imran Khan house adding that all this things happening to hide conspiracy.
She said that such people are doing this who brought this government into power. She asked why and in what capacity Maryam Nawaz is being shown government documents? She said that we wanted to ask neutrals and crime minister why this is happening?
Fawad Chaudhry said that continuously phone tapping is being conducted and these recordings are being leaked.
He said that file a case on Farah Bibi so she answers about allegations, adding that when a case not registered then how warrant can be issued.
He said that the place where Farah Bibi got one plat while Ayaz Sadiq got two plots while he questioned is Ayaz Saddiq partner of Farah Bibi.
Former information minister said that load shedding in the country is on rise day by day while the government even don't have money to buy fuel and it is being said that load shedding will be conducted on Eid days as well.
The PTI senior leader Fawad Chauhdry said that they accepted all the conditions of IMF despite that they are not getting package from the world finance body.
He said that the government have taken Rs 1100 billion NRO 2 by amending the NAB laws.۔ He said that Asif Zardari was given NRO 2 in 5000 Caroor in Omni group .