Wednesday October 12, 2022
PTI Chief Imran Khan Declares CEC Sikandar Sultan Raja As Bigot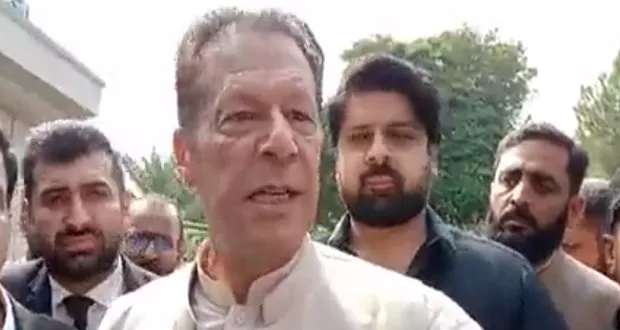 Islamabad: Pakistan Tehreek-e-Insaf (PTI) Imran Khan is ready to go jail while the former premier said that he knows that the intelligence agencies hold surveillance but leaking it a big crime.
Talking to media at the occasion of hearing before the Islamabad High Court (IHC), Imran Khan declared Chief Election Commissioner as a bigot person.
The PTI chief said that situation in Swat is tensed adding that a matter of border security is a responsibility of the federal government.
Over a querry of a journalist that the ruling PML-N wanted to beat you after compeling you to run, to which, the skipper said " I have more stamina then Sharif brothers."
The ex-premier said that the court has said that the foreign funding cases of all the parties be heard all together despite that the ECP announced verdict of the our case first.
Imran Khan said that the resignation of home minister Punjab before a Long march is a part of his strategy