Wednesday August 17, 2022
PTI Chairman Imran Khan Commences 100 Billion Tree Tsunami Project Once Again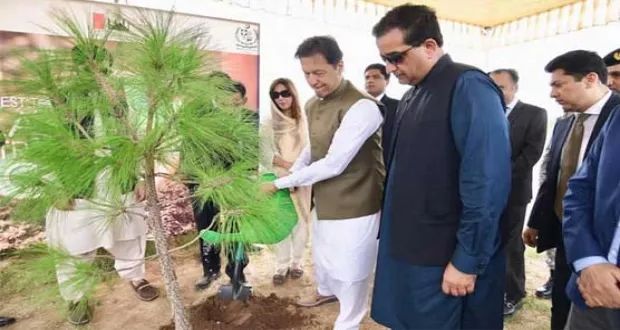 Islamabad: Chairman Pakistan Tehreek-e- Insaf (PTI) Imran Khan has commenced a one billion tree tsunami project once again.
Former premier Imran Khan inaugurated the project by planting a plant, under the project as many as 100 million plants will be planted in Punjab and Khyber Pakhtunkhwa during the season of rains while on the independence day celebrations 1.4 million trees were planted.
Talking on the occasion, Imran Khan said this year Pakistan faced a huge negative impact of climate change adding that Pakistan suffered scorching Sun and high temperatures in month of March and April more than the world.
Owing to the intensity of summer the incidents of fire in the forests were increased. He said that this year, rains lashed before the time which resulted into floods while three glaciers in North Waziristan were broken due to climate change as well.
The PTI chairman said that flood came owing to breaking up of the glaciers and wreaked havoc in these areas.The ex-pm said that for our better future of our coming generations, it is our national responsibility to plant trees.Owing to this 100 million each, trees will be planted in Punjab and Khyber Pakhtunkhawa in this season.
Imran Khan appealed the masses to participate in our tree plantation project in a large number..