Friday November 12, 2021
PPP Chairman Calls On PDM Chief To Mend Relations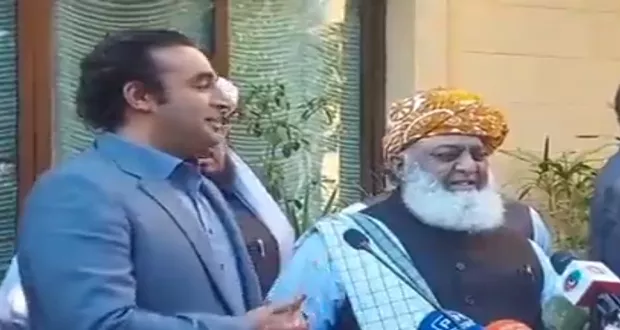 ISLAMABAD: PPP Chairman Bilawal Bhutto Zardari met Pakistan Democratic Movement (PDM) chief Maulana Fazlur Rehman on Friday after a six months gap.
The PPP leadership visited the JUI-F ameer at his residence in Islamabad while the PDM chief declared the meeting as goodwill gesture.

The PPP Chairman and other leaders of the party inquired about Maulana Fazal Ur Rehman health and discuss matters related to the current political situation as well.
Both the opposition leaders during the meet-up decided to adopt a joint strategy against the PTI government in Parliament.The opposition duo expressed concern over the rising inflation in the country.
The PPP chairman said to Fazlur Rehman, "you are a senior politician; we have had ties for three generations now."
Bilawal said that a joint strategy in Parliament on electronic voting machines (EVMs) and accountability laws could lead to success for the Opposition and only through Parliament could the government's efforts to bulldoze legislation be thwarted.
He further said that the recent defeats of the government in Parliament were major achievements of the Opposition.
Later, while talking to the media, on the question of a no-confidence motion against Chairman Senate Sadiq Sanjrani, Maulana Fazlur Rehman said that the matter did not come under discussion today. "We will hold consultations on it when the time comes. I will not make any decision outside Parliament."
Responding to a question, Bilawal said that the Opposition had dealt the government significant damage through democratic traditions and "we are trying to proceed in a democratic manner and achieve success".
The development comes amid close coordination among the Opposition parties in Parliament to adopt a joint strategy against the PTI government.
PPP had resigned from all the PDM offices in April 2021 saying that no party "should try and impose their will and dictation on any other political party".
The PDM had asked the PPP to explain why it sought support from the treasury benches for Syed Yousuf Raza Gilani's election to the post of Leader of the Opposition in Senate.