Sunday December 18, 2022
PM Seeks Chaudhry Shujaat Help To Stop Dissolution Of Assemblies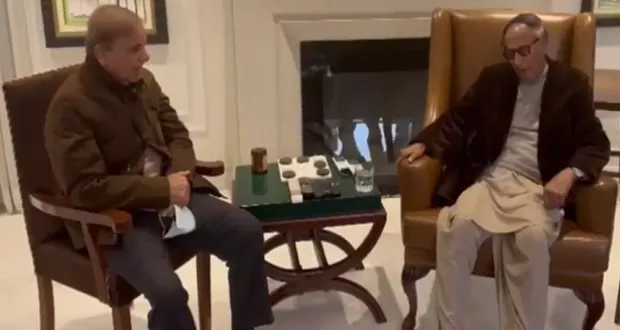 Lahore: Prime Minister Shehbaz Sharif visited the residence of President PML-Q Chaudhry Shujaat Hussain in Lahore on Sunday and inquired after his health.
During the meeting, they exchanged views on the political and economic situation of the country.
Chaudhry Shujaat Hussain appreciated the Prime Minister's sincere efforts to steer the country and people out of the crisis.
Both the leaders also agreed to further fortifying the mutual cooperation.
Sources said that the PM has sought help from Pakistan Muslim League-Q (PML-Q) chief Chaudhry Shujaat Hussain for stopping of the dissolution of assemblies.
The PM said to senior and elderly politician to talk to Pervez Elahi and stop him to dissolute the assembly adding that we are coalition partners and will continue to cooperate with each other.
The premier said that we all should play a positive role to steer out the country from the existing situation.
On ther other hand Chaudhry Shujaat responded to the PM Shahbaz to feel pain of the masses and to play your role in provision of maximum relief to them.
The PML-Q chief said that whatever decision the PDM will take for dissolution of assembly we are with it.
The post PM Seeks Chaudhry Shujaat Help To Stop Dissolution Of Assemblies appeared first on Karachi News.