Monday January 09, 2023
PM Calls For Sustained Int'l Plan To Meet Daunting Task Of Rehabilitation Of Flood-hit Areas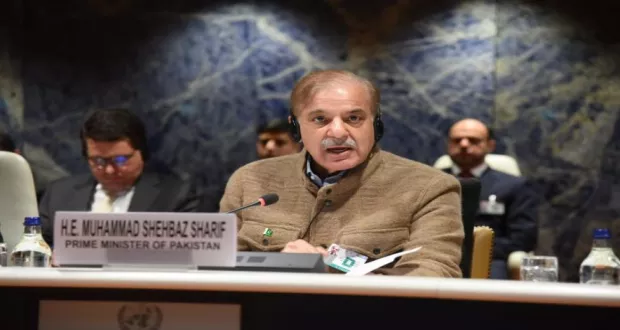 Geneva: Prime Minister Shehbaz Sharif has called for a sustained international plan to meet the daunting task of reconstruction and rehabilitation of flood-affected areas and build a climate resilient Pakistan.
Addressing the inaugural session of International Conference on Climate Resilient Infrastructure in Geneva on Monday, he said a new lifeline is need for our people to power our economy and reenter the 21st century with a future that is protected from extreme risks to human security.
The Prime Minister said together we have to rebuild the lives and dreams of flood ravaged people. He said the international community's solidarity and long-term support to Pakistan at this critical juncture will make the difference between staying unprepared or facing the future with renewed hope and aspirations. It is about the solidarity and vision needed to ensure the world's transition to a sustainable future not on papers but on the ground in schools, in the fields, in business, in industries and in homes.
The Prime Minister said his government has prepared a comprehensive framework for recovery, rehabilitation and reconstruction with resilience.
Shehbaz Sharif said the first part of this plan reflects priorities for recovery and reconstruction, bearing in mind the minimum funding requirement of 16.3 billion dollars, half of which is proposed to be met from domestic resources and the other half from development partners and friends. He said the funding gap for minimum recovery is eight billion dollars which will be needed over the next three years.
Shehbaz Sharif said the second part of the framework incorporates flood resilience design and infrastructure projects such as protecting key highways, rail line network, an early warning system and capacity building for rescue and relief in future disasters. He said it is clear that Pakistan's ability to recover from the colossal flood disaster, to restore critical infrastructure and revive rapid economic growth will hinge substantially on the speed of these actions. The most important link in this chain will be financial resourcing and if that gap continues to obstruct our recovery and minimum resilience needs, the results will be too catastrophic to image.
In his remarks, Representative of UNDP said that apart from reconstruction and rehabilitation, now gigantic task is resurgence of the hope in the people.
He said the climate related disasters are becoming new normal.
The UNDP Representative said world has an opportunity to choose a new direction with a new innovative model of cooperation.
He said Pakistan needs fiscal space to overcome the situation.
Speaking at a plenary of the International Conference on Climate Resilient Pakistan, Planning Minister Ahsan Iqbal said Pakistan needs reconstruction and rehabilitation of its damaged infrastructure. Besides, we have to reengineer our built infrastructure to be more resilient and adoptable for future shocks.
He said the foundation of Build Back Better strategy is finding a people-centric socio-economic recovery, and building systematic resilience against natural hazards and climate change impacts.
In her remarks, Minister for Climate Change Sherry Rehman said Pakistanis are resilient people but the peril of floods is not over. She pointed out that eight million people still live in inundated areas.
The Minister stressed for timely and agile investments to build necessary shields and defenses to better cope with the climate change. She said Pakistan needs both technical support as well as uninterrupted supply of funding resources to rebuild the lives of affected people.
Minister for Economic Affairs, Sardar Ayaz Sadiq, in his remarks, said the government of Pakistan is looking for significant support of its development partners in rebuilding the country after devastating floods.
He said transparency of transferring aid to the victims will be ensured as per the direction of Prime Minister Shehbaz Sharif.
The Minister thanked all the development partners for their support to the flood-hit people in Pa
The post PM Calls For Sustained Int'l Plan To Meet Daunting Task Of Rehabilitation Of Flood-hit Areas appeared first on Karachi News.