Thursday September 15, 2022
PM Arrives in Samarkand To Attend SCO-CHS Meeting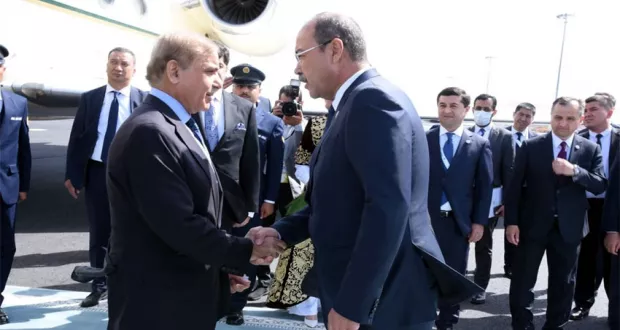 Samarkand: Prime Minister Shehbaz Sharif has arrived in Samarkand, Uzbekistan to attend the annual meeting of the Council of Heads of State of the Shanghai Cooperation Organization (SCO).
At the airport, he was received by Uzbekistan's Prime Minister Abdulla Aripov, Minister for Public Education Bakhtiyor Saidov, Governor Samarkand Erkinjon Turdimov and Deputy Foreign Minister Gayrat Fozilov.
Just after reaching Samarkand, Prime Minister Shehbaz Sharif visited Khizr complex and the tomb of founding leader of Uzbekistan Islam Karimov.
He was accompanied by Minister for Defense Khawaja Asif and Finance Minister Miftah Ismail.
Before leaving on visit to Uzbekistan to attend the SCO meeting today, Prime Minister Shehbaz Sharif in his message on social media micro blogging site twitter, said that global economic turbulence has necessitated the need for more cooperation amongst the SCO member countries.
He said the SCO vision represents the aspirations of forty percent of world population.  He said the SCO has a great potential to chart a way forward at a time of deeply worrying transformation in the geo-political and geo-economic fields.
Reiterating Pakistan's commitment to Shanghai Spirit, the Prime Minister said mutual respect and trust can be the bedrock of shared development and prosperity.