Sunday May 01, 2022
People Facing High Inflation, Unemployment Due To Imran Khan : Info Minister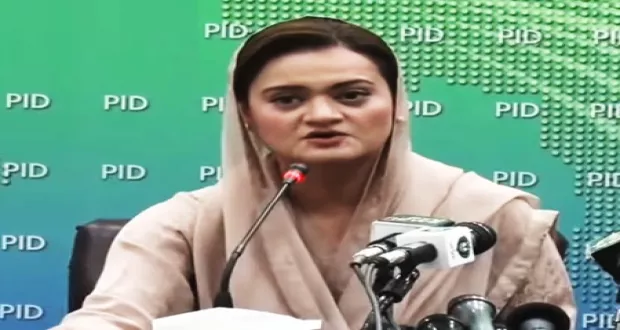 Islamabad: Minister for Information and Broadcasting Marriyum Aurangzeb has said former Prime Minister Imran Khan has failed to prove a single penny of corruption and money laundering and misuse of authority against Prime Minister Shehbaz Sharif and other leaders of Pakistan Muslim League-Nawaz in last four years.
Addressing a news conference in Islamabad on Sunday afternoon, she said Imran Khan put his political opponents in jails and detained them in death cells but he could not prove anything wrong against them in a court of law.
She said Imran Khan kept busy in using NAB, Federal Investigation Agency and other government authorities to victimize political opponents and did not pay any attention to mitigate the sufferings of the people of Pakistan. She said people are facing high inflation and unemployment in the country due to incompetence of Imran Khan.
The Minister said it is the people of Pakistan, who through their elected representatives, voted out Imran Khan from power. She said what an irony it is that Imran Khan is defending his front-person Farah Gogi, whose assets surged to billions of rupees.
Talking about the corruption of Imran Khan, Marriyum Aurangzeb said Imran Khan retained gifts from Tosha Khana as well as expensive BMW vehicle worth 150 million rupees. She said a pistol gifted by a foreign dignitary was even not listed with the Tosha Khana and Imran Khan retained that with him illegally.
Mentioning recent incident at Prophet's Mosque in Madinah, the Minister said indecent sloganeering made on the behest of Imran Khan. She said Imran Khan is involved in inciting violence in the society. She said she is eye witness that people sent by Imran Khan were inciting others to raise slogans and hurl abuses on her in the courtyard of Masjid-e-Nabvi.
Highlighting the successful tours of Prime Minister Shehbaz Sharif to Saudi Arabia and the United Arab Emirates, Marriyum Aurangzeb said for the first time Islamabad and Riyadh is going to forge strategic partnership. She said Finance Minister Miftah Ismail is still staying back in Saudi Arabia to finalize future framework of cooperation between Pakistan and Saudi Arabia. She said Imran Khan is not digesting the reception and warmth accorded to Prime Minister Shehbaz Sharif during his visit to KSA and UAE.
Answering a question, the Minister said the law will take its course if anyone violates the law.