Thursday November 11, 2021
Pakistan To Host OIC FMs Meeting Next Year: Qureshi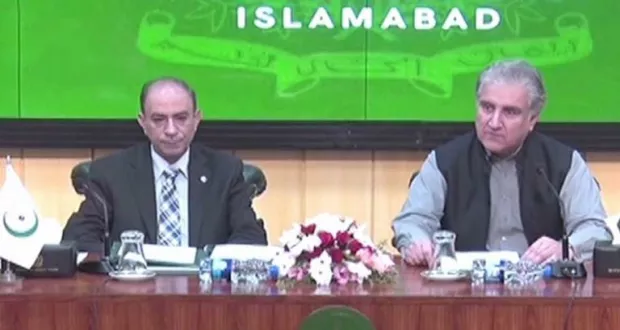 ISLAMABAD: Foreign Minister Shah Mahmood Qureshi on Thursday said that the Indian government was "losing the battle of hearts and minds" in Illegally Occupied Jammu and Kashmir.
Addressing a press conference alongside Special Envoy of the Organisation of Islamic Council (OIC) Yousef Aldobeay, FM Qureshi said, "You have witnessed in the neighbouring country to the west what happens when one loses the battle of hearts and minds."
In response to a question, the foreign minister said he was a seeing a change in the people of Indian-occupied Kashmir. "The Indian government had created an impression that the situation was normal again in the valley," he added.
However, he said, the way Indian authorities snatched late Hurriyat leader Syed Ali Shah Geelani's body dispelled that impression. "Had the Indian authorities not imposed restrictions, "a sea of people" would have been witnessed at Gilani's funeral," he said, adding that the Indian government lacked the courage to let it happen.
Qureshi also announced that Pakistan would be hosting the upcoming session of the OIC's Council of Foreign Ministers (CFM) summit in March 2022, where the Kashmir issue would come under discussion in light of a report prepared by the OIC delegation.