Saturday January 08, 2022
Pak Army Evacuating Stranded Murree Tourists, Providing Food, Shelter: ISPR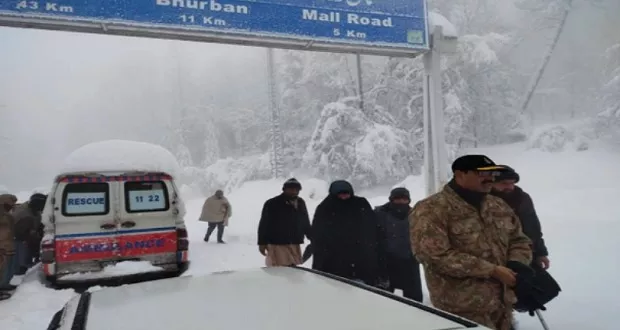 RAWALPINDI: As queues of cars continue to dot Murree's roads and citizens remain stranded in the bitter cold, the Inter-Services Public Relations (ISPR) has issued a statement to assure the nation that relief measures are being taken.
"All stranded people will be shifted to five army relief camps established at Murree where they will be provided with food and shelter," the military's media wing said.
"Army relief centres have been established at Army School of Technicians Barian, Military College Murree, Jhika Gali, APS Kuldana, and Station Supply Depot Sunny Bank," according to the statement.
The statement further said that Frontier Works Organisation (FWO) bulldozers and army engineers are "busy in keeping the roads open without any pause to assist people".
The ISPR said that the Murree Expressway has been opened and cleared by the National Highway Authority (NHA), FWO and army engineers for any fresh snow.
"All resources at the disposal of the Murree division in terms of engineers and machinery [have been] mobilised and will remain in the field till all people are evacuated," said the statement.