Tuesday August 16, 2022
Overseas Pakistanis Voting: Rana Sanaullah Says We Have Objection On Adminstrative Issues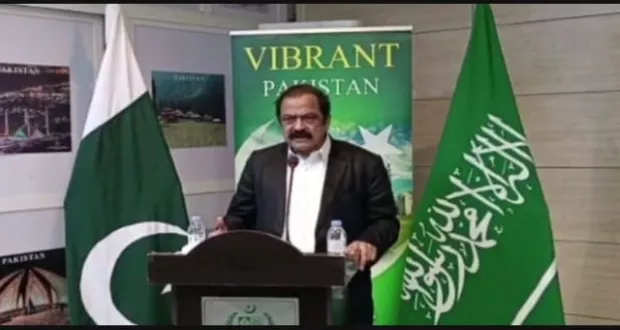 RIYADH: At the Pakistan Consulate in Saudi Arabia, Interior Minister Rana Sanaullah said that overseas Pakistanis have not been denied the right to vote, only there are differences of opinion on its administrative affairs, on which the Election Commission is making reforms.
Speaking to the Pakistani community at Jeddah Consulate, Federal Interior Minister Rana Sanaullah said that the federal government is carrying out the affairs of Pakistan in a good manner. The Muslim League-N has decided that Mian Nawaz Sharif will lead the upcoming election campaign and after winning the election with a huge majority, PML-N will get Pakistan out of trouble.
Interior Minister Rana Sanaullah said that he had a meeting with his Saudi counterpart in which all important issues including enhancing bilateral relations were discussed while the Saudi Interior Minister will visit Pakistan on August 29.
On solving the problems on behalf of the community, Rana Sanaullah said that while the embassies and consulates are playing their role to solve the problems of overseas Pakistanis, the federal government is taking steps to solve complex problems so that sea Relief can be provided to the Pakistanis.