Saturday September 10, 2022
Orange Abdul Sattar Edhi Line BRT Inaugurated With Simple Ceremony Owing To Floods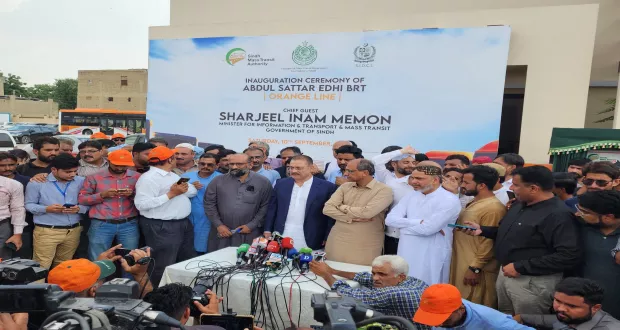 Karachi: Orange Line BRT, which has been named for late social worker and runner of the largest ambulance network in Pakistan, Abdul Sattar Edhi, has inaugurated today.
The modern and latest Bus service will operate from the biggest slum area of Asia, Orangi Town to Nazimabad Board office.
Initially 12 busses will run on the track whereas the total number of 40 buses will operate on the service.
Sources said that at start, partly fair of Rs 20 to 25 will be charged.
The Orange Line (Abdul Sattar Edhi) BRT was inaugrated with a simple ceremony due to the destruction of the floods.
Provincial Transport Minister Sindh, Sharjeel Memon said that the Karachiites can be benefited from the bus service from today.
He said that thousands of people will travel in the modern bus service daily.
Sharjeel Memon said that the Sindh government is following the vision of his party Chairman Bilawal Bhutto Zardari.