Thursday March 31, 2022
Opposition Ready To Serve Foreign Powers, Alleged PM Khan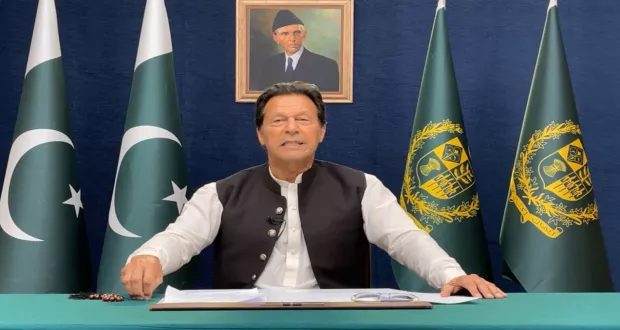 ISLAMABAD: PM Imran Khan said PML-N supremo Nawaz Sharif was convicted in Pakistani courts. Lashing out at the Opposition, he said the National Accountability Bureau (NAB) and other institutions had made cases against them.
"Will foreign countries want such corrupt people in power in their states? They are ready to accept such corrupt politicians, but I am not acceptable to them," the prime minister said in his speech to the nation.
The premier said the foreign powers were well-aware of the properties and assets of the "corrupt" politicians as he gave a reason behind the Opposition's readiness to "follow foreign orders."
After Deputy NA Speaker Qasim Suri adjourned the lower house session to avoid the no-confidence motion, Prime Minister Imran Khan is addressing the nation.
The prime minister wondered why were the "three stooges" acceptable to the foreign powers. "I will tell you why they are acceptable. During dictator Pervez Musharraf's tenure, only 11 drone attacks took place, but after them, during the 10 years of [PPP and PML-N's] tenure, 400 drone attacks took place."
"They did not even utter a single word against it […] Even Hamid Karzai, who was the president of Afghanistan where the US forces were present, would condemn the drone attacks, but our politicians did not express reservations against it," he said.
The prime minister said Fazl, according to WikiLeaks, told the former United States ambassador to Pakistan, that he will serve America just like the others. "Nawaz Sharif, according to Indian journalist Barkha Dutt, held secretive meetings with Narendra Modi in Nepal."
"Shahbaz claimed that I was wrong to say absolutely not to the United States […] this is why they like them," the prime minister said on Opposition leaders' acceptability to foreign powers.
PM Imran Khan lamented that during the "war on terror", overseas Pakistanis were put behind bars, and no government raised reservations over it as they feared the repercussions.
"…you have never taken a stand for Pakistanis, Shahbaz. Neither can your brother — Nawaz — as they know where his money is stashed," the prime minister said.
The premier said that the Opposition claimed that if the "threat letter" was real, they would side with him. "So why did you not partake in the NA committee session where it was presented."