Tuesday November 16, 2021
Opposition Prepares Strategy To Block Govt Legislation With Full Force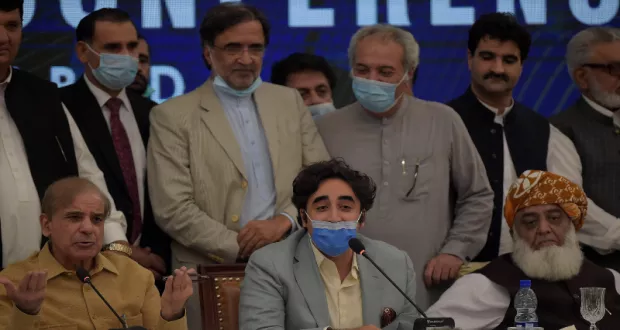 ISLAMABAD: Leader of the Opposition in the National Assembly Shehbaz Sharif presided over a meeting of leaders of opposition parties ahead of a joint sitting of both houses of Parliament slated for Wednesday
The huddle was held in the opposition leader's chamber at Parliament House.
Syed Khursheed Shah and Yousuf Raza Gillani represented Pakistan People's Party (PPP) and Pakistan Muslim League-Nawaz's (PML-N) Shahid Khaqan Abbasi, Khawaja Asif, Ayaz Sadiq, and Rana Sanaullah were among opposition lawmakers who were in attendance in the meeting.
The opposition charted a strategy for the upcoming joint sitting of Parliament. It vowed to block with "full force" the passage of what it termed black laws that the government wants to introduce.
The meeting agreed to instruct opposition lawmakers to ensure their presence in tomorrow's session.
Speaking on the occasion, Shehbaz Sharif slammed the ruling PTI saying that the government behind the economic crisis and rocketing inflation couldn't get a lease of life through black laws.