Sunday September 11, 2022
Never Seen Climate Carnage On Scale Of Floods In Pakistan: Guterres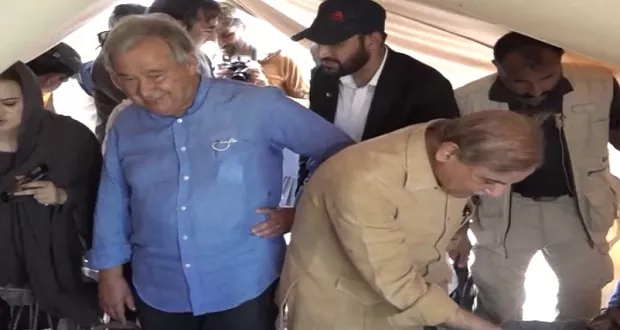 Islamabad: The Secretary General António Guterres has said "I have never seen climate carnage on the scale of the floods here in Pakistan."
As our planet continues to warm, all countries will increasingly suffer losses and damage from climate beyond their capacity to adapt, the UNSG said.
António Guterres went on to say that this is a global crisis which demands a global response.
Beyond the human suffering of the affected people in Pakistan, he has also seen great heights of heroism.
He thanked the civil society, humanitarian organizations, and the UN teams who have rushed in, for their tireless work.
Guterres said that We stand in solidarity with the people of Pakistan.
He was moved by the generosity of people affected by the Pakistan floods toward one another.
They have opened their homes & shared what they have.This is an example of solidarity for all countries as the impacts of the climate crisis continue to impact the most vulnerable.
Pakistan suffers—yet has done almost nothing to contribute to climate change.
He urged countries to generously support the humanitarian response, recovery and reconstruction as a matter of solidarity and justice.
Pakistan and other developing countries are paying a horrific price for the intransigence of big emitters that continue to bet on fossil fuels, he apprised.
From Islamabad, He is issuing a global appeal stop the madness,invest in renewable energy now and end the war with nature.