Tuesday November 15, 2022
Nawaz Sharif Is Playing With Destiny Of The Country: Imran Khan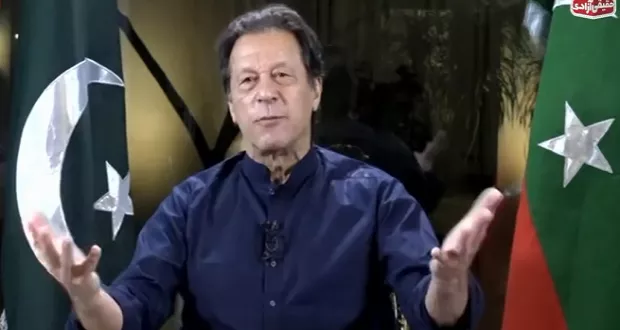 Lahore:Former premier Imran Khan has said that Nawaz Sharif is playing with the destiny of the country.
Addressing the PTI long march today at Saraye Alamgir from Lahore through a video link, Imran Khan said that when our government was removed our country economy got killed.
The PTI chief said that the two families increased our debt by four times if we were to return installments of their loans then we get bankrupt and whole of the world will stop giving us loans.
Imran Khan said that if we were gotten bankrupt then the rupee will further fall adding that no one knows how much the rupee will depreciate because owing to the bankruptcy dollar will not come to the country.
The ex-prime minister said that when our government was ousted seven months ago on April 10, the country risk rating was five percent and this ratings have climbed to 64.5 percent in today's newspapers.
He reiterating his claim of blaming someone who brought this government into the power, and asked them who is responsible for all the destruction.
Earlier he blamed the US who brought this government but yesterday in his interview with the international news channel taking you turn he said that he wanted to establish good relations with the USA.
He said "Democracy runs with moral values too. Meritocracy makes institutions better". Imran Khan said that he is an ex-premier and a head of the biggest party of the country, a person whom nation knows from last 50 years adding that he got assassination attacked on his life and registration of an FIR is a right of every person but it is not lodged and calling Chief Justice, he said what bigger precedent of injustice can be then this.
The ex-premier appealed to the Supreme Court (SC) Chief Justice Umar Atta Bandiyal "you have three landmark cases in which you have to provide justice which included Arshad Sharif murder case, torture on Azam Swati and assassination attempt on me."
He said that Ishaq Dar was brought to the country for stabilizing the country's economy while Dar said that he will redress Moody's and now he has disappeared.
The PTI chief said that in the reign of these two families of robbers India and Bangladesh left behind Pakistan in the economic progress and development.He said that their wealth started to increase and Pakistan caught in the debt trap.
Imran said that those who will give us loan will also receive price of it adding that if Pakistan were compromised on its national security then it will not affect Nawaz Sharif.
The former premier said that Nawaz Sharif went to London on private visits 23 times on the national exchequer while Asif Zardari visited Dubai for 50 times.
He said that these people broker deals sitting in the UK and returned back to the country after getting green signal.
The post Nawaz Sharif Is Playing With Destiny Of The Country: Imran Khan appeared first on Karachi News.