Wednesday November 02, 2022
NAB Was Not Working Under Me: PTI Cheif Imran Khan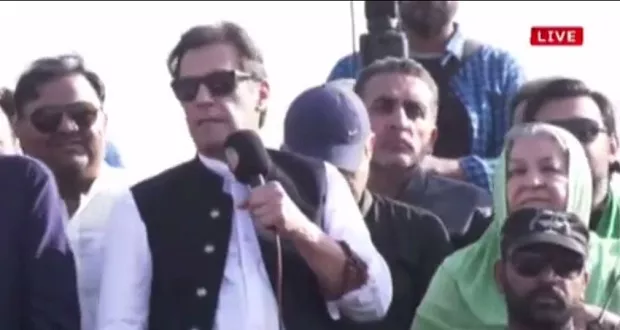 Rahanwali : Pakistan Tehreek-e-Insaf (PTI) chief Imran Khan revealed that the National Accountability Bureau was not in his control.
Repeating all his earlier speeches since he ousted from the government in April to the participants of the Long March at the Rahanwali, the former premier said that the death is better then to live in the rule of thieves and robbers.
The PTI chief said that when there is no justice in the society it can't progress adding that a big robber has become a prime minister in the country in reference to Shahbaz Sharif.
Imran Khan apprised that Shahbaz Sharif just has to be given sentence in a corruption case of worth of Rs 16 billion. He said that these corrupt politicians never punished for their crime.
He said that fifty years ago Pakistan was progressing adding that Maqsood Chaprasi who had found to be having Rs billion in his account was died by heart attack.
The person who was interrogating Rana Sanaullah committed suicide. They used delaying tactics some times they got ill and some times made excuse of any other reason.
Imran Khan said that the price of diesel was Rs 150 and now it has reached to above Rs 200.
He said that someone on higher positions disposed of their cases and these thieves made rulers of the country. Maryam Nawaz, Hamza Shahbaz, Asif Zardari cases were disposed of adding that father of Maryam, "Nawaz Sharif is planning returning to the country."
The former premier said that they have just after assuming powers made such amendments in the NAB laws that small thieves could be arrested only.
The PTI chief said that we have come to streets for a real independence and we are not animals