Friday October 28, 2022
Much Awaited PTI Long March Starts In Leadership Of Imran Khan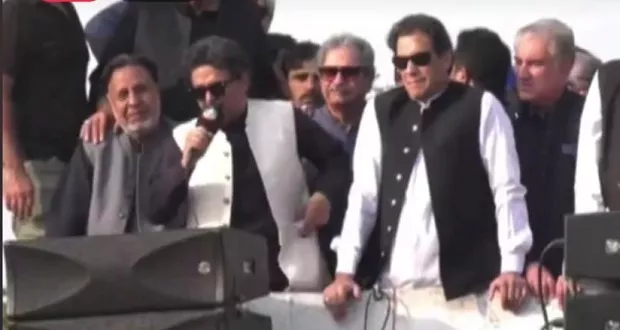 Lahore: Much awaited Pakistan Tehreek-e-Insaf (PTI) Long March started headed it Chairman Imran Khan from Liberty Chowlk with his important address lambasting on the current government for torture on his party leaders.
The PTI long march started late around 3:45 pm which had to be started at 11 am morning.
Activists, workers, sympathizers and leaders of various tires of the party are still reaching the liberty chowlk, Lahore.
Pakistan Tehreek-e-Insaf (PTI) senior leader Fawad Chaudhry today before start of the long march urged the masses to leave their houses to change the system of Pakistan.
In his message regarding his party-led Long March, former information minister said that if you don't become part of the " Haqiqi Azadi March, Real Independence March) today then you should not to have any complain regarding this system.
Fawad Chaudhry went on to say that if you wanted to change the system then should come out of your houses, otherwise your children lives will also pass in this rotten system.
Before Start of Long March Imran Khan Message
In a video statement on the eve of long march, the former PM said that the "real freedom" march is starting from Liberty Chowk on Friday at 11 o'clock, adding that this long march is not for any personal interest, and not to topple anyone's government.
"PTI's march is for true freedom after the freedom gained from the British because we want a country in which decisions are made by Pakistanis, not by foreign puppets," he added.
Imran Khan vowed that the PTI will continue to fight for real freedom until the doors of foreign conspiracies to get power are blocked.
Goats To Be Sacrificed As Alms Before Start Of Long March
Lahore: Goats for alms have been transported to Pakistan Tehreek-e-Insaf (PTI) chief Imran Khan Lahore residence, Zaman Park.
The goats will be sacrificed as alms at the very start of the long march so that the march be completed with safety and security. Besides alms goats purpose is to get God blessings that the long march achieves its all purposes.