Friday August 12, 2022
Mountaineer Sirbaz Ali Gets A Closer To Target Of Summiting All 14 8-thousanders In World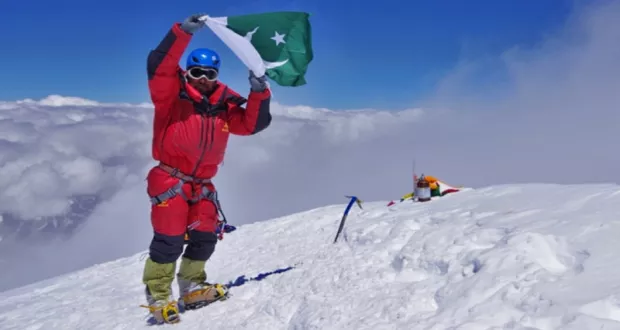 Islamabad: Pakistan's acclaimed mountaineer, Sirbaz Ali Khan, on Friday, got one step closer to his target of becoming the first Pakistani to summit all 14 8-thousanders in the world when he successfully summitted Gasherbrum-1, the 11th tallest mountain in the world.
The 8,080m high mountain took the total 8-thousander tally for Sirbaz to 12. The mountaineer now needs to climb S

"We continue the mission of raising the green flag on top of all 14 highest peaks in the world. Alhamdulilah, earlier this year, I became the first Pakistani ever to summit 11 8,000-meter peaks. Now, it's time for the 12th one: Gasherbrum 1," he had said ahead of his expedition on G-1.
His summit manager, Saad Munawar confirmed on his social media account that Sirbaz had reached the top at around 7:30am PKT and he summitted the mountain without supplementary oxygen.
"Alhamdulilah, another historic achievement as Sirbaz Khan raises the green flag on a record 12th 8,000-meter summit as he summits Gasherbrum-1, today at 7.30am (local time).
Sirbaz summited the mountain without using supplementary oxygen. With this summit, Sirbaz has now summited all 8000-metre peaks in Pakistan and Nepal," he said.
"Sirbaz also led a three-member Pakistani team that helped Sohail Sakhi reach his first 8,000-meter peak without extra oxygen," Saad said.
Earlier this year, Sirbaz had scaled Makalu (8,463m) and Kanchenjunga (8,586m).