Wednesday June 22, 2022
More Pained We Felt More Than The Letter When Thieves Imposed On Us: Imran Khan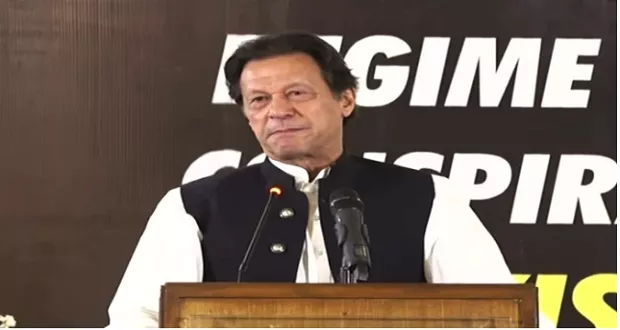 Islamabad: Chairman Pakistan Tehreek-e-Insaf (PTI) Imran Khan said "I say by making the God witness that I didn't thing of ever who has to be make army chief in November, I never had thought that I need my army chief while I make any person army chief who is on a merit."
Former premier was addressing a seminar under his party platform with title "Regime Change".
The PTI chief said that Khurram Dastahir has apprised the reason behind regime change as Khurram Dastagir said that Imran Khan had wanted to make army chief of his choice.
"Can someone told me, Imran Khan questioned, did I ever honoured my relatives?".
He said that Nawaz Sharif had money of theft and he wanted to control institutions and you can see how he appointed persons of his choice everywhere in this government.
Talking about the past, the PTI chief said that Nawaz Sharif had controlled every institutions and he had also wanted control of army.
Imran Khan said that the day you recognized Israel then the same day we will loss Kashmir. He reminded that when Nawaz Sharif visited India, he didn't meet Hurriyat leaders of Occupied Kashmir.
Former premier said that he doesn't ever thing himself anti-America but he questioned that should we use like tissue papers? Did we give bases to the USA adding that the USA conducts regime change for its own interests.
He said that the America benefitted through the regime change and it wanted to use Pakistan. Former PM said that he had known about the conspiracy one year ago.
The PTI chief said that more pained we felt more than the letter when thieves were imposed on us. He said that he could not even imagine that someone will make Shahbaz Sharif a prime minister.
Imran Khan said that he even apprised to 'the neutrals' that Shahbaz Sharif and his sons have corruption cases worth billion of rupees.