Sunday January 01, 2023
Many Sustain Injuries During Happy New Year Celebrations In Karachi.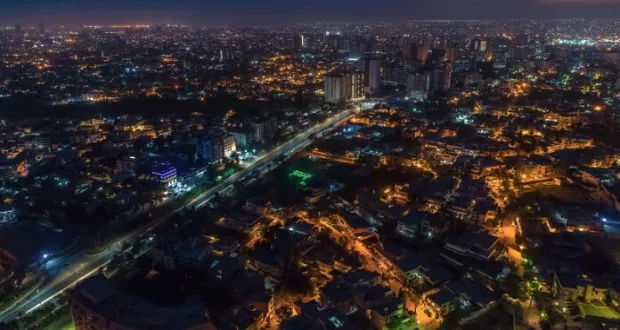 KARACHI: Many persons were injured due to aerial firing in different parts of Karachi as celebrations of new year 2023 observed across the city.
As the clock ticked 12 am to announce the arrival of year 2023 on Saturday night, the port city resonated with the sounds of heavy gunfire. At least 22 people were hit with stray bullets.
The injured were taken to the hospitals from Saddar, Garden, Osmanabad Panjwani Plaza, Lighthouse, Raja
Mansion, Hussainabad, Board Office in Nazaimabad (where a minor child got injured), Nazimabad Bridge,
Liaquatabad No. 4, Five Star Chowrangi, Kharadar, Kashmir Colony, Dhoraji Chowrangi, Expo Centre (where a
woman was injured), Al-Asif Square, ICI Bridge Soomro Gali, Landhi Future Colony (where a woman was seriously
injured), Nagan Chowrangi (where a woman injured), Qasba Colony's Kati Pahari and Water Pump, Gulberg.
A minor boy was injured in aerial firing near North Nazimabad's Board office.
A youth injured in firing at KDA Chowrangi in North Nazimabad has been identified as 20-year-old Shahmir, son of
Khursheed Alam. A 22-year-old man, identified as Naveed son of Sher Hussain, was wounded in Hussainabad. Bedal, 36, son of Shah, was injured in Nazimabad's Naya Golimar area, while in Liaquatabad No. 4, 35-year-old Adeel, son of Nisar, suffered bullet injury.
According to hospital sources, the Civil Hospital received eight injured, four injured were brought to Jinnah Hospital, and ten injured citizens, including women and children, were admitted to Abbasi Shaheed Hospital for treatment.
According to rescue sources, 22 people have been injured.
Meanwhile, the police have arrested three people over the aerial firing in Korangi and charged them with attempted murder. Law enforcers arrested more than 10 miscreants in the city.
Karachiites took to streets and roads to celebrate the arrival of new year. The Five Star Chowrangi was thronged by people in festive mood. Meanwhile, Sindh Governor Kamran Tessori arrived at the Numaish Chowrangi where citizens gathered in large number to watch fireworks.
People also flocked to the Clifton Seaview and Do Darya to view massive fireworks celebrating the New Year.
Separately, various clubs, hotels and organisations organised huge firework displays to welcome the New Year.
Fireworks were also set off in other parts of the city, including Bahria Town and Bagh Ibn Qasim.
Prime Minister Shehbaz Sharif, while welcoming the nation to a new year, prayed for Pakistan's political and economic
stability in 2023. He recalled the disastrous floods in 2022 and promised to bring light to the lives of the flood victims.
The premier also promised the youth to bring new opportunities and paid homage to the martyrs of the country.
In Rio de Janeiro, throngs of people packed the city's Copacabana Beach — up to two million were expected — for
music and fireworks, without coronavirus safety measures of the past few years.
The festivities came only hours before Brazil inaugurates new president Luiz Inacio Lula da Silva Sunday, following his
razor-thin win in October polls.
Across the Atlantic, Parisians — and a "normal" amount of tourists, comparable to 2018 or 2019, according to officials
— took the opportunity to crowd together shoulder-to-shoulder for a fireworks show along the Champs-Elysees.
Police said about a million people showed up for the celebration, where children in pushchairs and partiers with
champagne were equally visible.
"We're here for the ambiance, to have a good time and to be together," said 19-year-old student Ilyes Hachelef. "And
it's beautiful!"
Hours earlier, Sydney became one of the first major cities to ring in 2023, restaking its claim as the "New Year's Eve
capital of the world" after two years of lockdowns and coronavirus-muted festivities with a fireworks display over the
Sydney Harbour Bridge.
For some, 2022 was a year of Wordle, the Great Resignation, a new Taylor Swift album, an Oscar slap and billionaire
meltdowns.
It also saw the deaths of Queen Elizabeth II, Brazilian football icon Pele, Mikhail Gorbachev, Jiang Zemin, and Shinzo
Abe. Former pope Benedict XVI also died on New Year's Eve.
The global pely to be remembered
The post Many Sustain Injuries During Happy New Year Celebrations In Karachi. appeared first on Karachi News.