Thursday January 26, 2023
Kashmiris Observing India's Republic Day as Black Day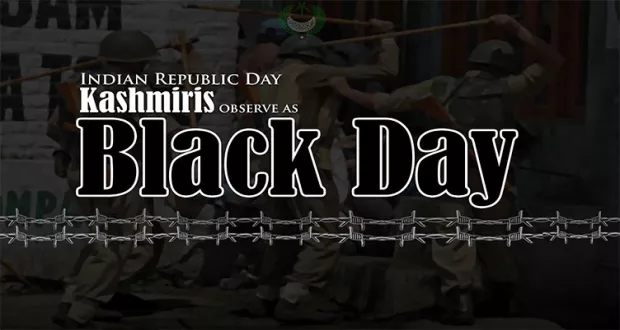 SRINAGAR: Kashmiris on both sides of the Line of Control and world over are observing India's Republic Day today (Thursday) as Black Day to impress upon the world to take notice of New Delhi's continued denial of right to self-determination to the Kashmiri people.
According to Kashmir Media Service, call for the observance of the Black Day has been given by the All Parties Hurriyat Conference.
The day will be marked by a complete strike in occupied Jammu and Kashmir and anti-India demonstrations and rallies in Azad Kashmir, Pakistan and world capitals to give a strong message to the international community that the Kashmiris consider India as a usurper of their fundamental rights.
APHC leaders and organizations including Ghulam Nabi War, Khadim Hussain, Sibte Shabbir Qummi and Jammu and Kashmir Liberation Front through statements, massages and posters have asked the Kashmiris to boycott all Indian official celebrations and hoist black flags on the rooftops of their houses, shops and other buildings.
The post Kashmiris Observing India's Republic Day as Black Day appeared first on Karachi News.