Friday July 08, 2022
Islam Teaches Brotherhood, Unity, Muslims Should Be Affectionate To Each Other: Hajj Sermon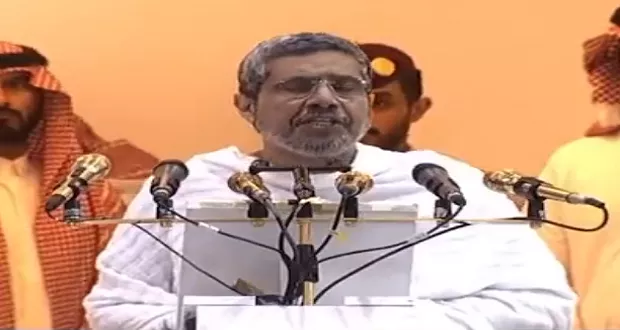 Mecca: Sheikh Muhammad Bin Abdul Kareem on Friday while delivering this year Hajj sermon in the Nimrah Mosque, said that the Islam teaches brotherhood and unity adding that the best human being is one who follows the path of virtue.
On the occasion of 10 millions pilgrims offering of fifth pillar of Islam, Hajj, the Imam said that the Muslim ummah should be affectionate to each other.
Sheikh Muhammad Bin Abdul Kareem in his sermon said that it is saying of God in his book the Quran " No black is supreme to white one while no any white man has superiority over the black."
" Calamity of the human being can not do away by anyone except the God Almighty." If God has any standard of greatness and eminence then it is a fear of God '(Taqwah) (Fear of God in performing all actions in once life").
The prayer leader said that God has ordered to adopt a passage of goodness with the parents while the God has also ordered to behave well with your relatives. He added that divine mercy is near to the people who do good deeds.
The basic pillar of Hajj, (Waqoof Arfa) are being offered today. After offering of prayers of Zuhar and Asar together now they are praying to God.
While delivering the hajj sermon, Shaikh Muhammad Bin Abdul Kareem said that the success lies in the fear of God, the person who adopts the fear of God get closeness of the God. The Imam said that yours's calamity can't be do away by any person except the God.
The Imam went on to say during his sermon there is the glad tidings for the God fearing person adding that it is demand of the Islamic values and culture that if something cause hatred then all should away from it.
The prayer leader for the day at Masjid-e-Nimrah, said that always be in hurry for doing good deed while the God fearing people get closeness of the God.
In his sermon to as many as 10 million pilgrims, the Imam of Nimra Mosque apprised that as per saying of our Prophet Muhammad Peace Be Upon Him (PBUH), the person will accompany him on the day of resurrection who has good morals adding that all the human beings are offspring of Prophet Adam (A.S) and he (Adam) is made up of soil.