Thursday October 28, 2021
India Tests Agni-5 Ballistic Missile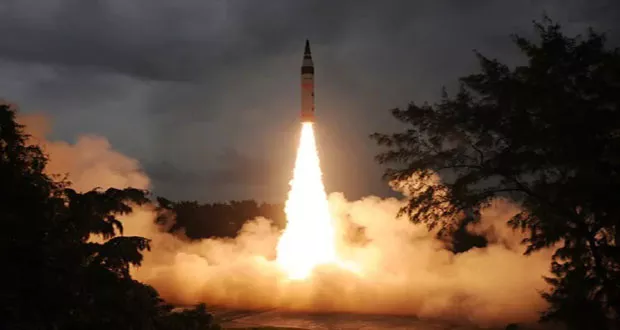 NEW DELHI: India has tested a ballistic missile capable of carrying a nuclear warhead up to 5,000 kilometres (3,100 miles), the defence ministry said.
The move in what media called a "stern signal" to China as the two remain locked in a border spat.
The Agni-5 missile blasted off from Abdul Kalam Island off India's east coast late Wednesday and splashed into the Bay of Bengal.
"The successful test … is in line with India's stated policy to have 'credible minimum deterrence' that underpins the commitment to 'No First Use' [of nuclear weapons]," a defence ministry statement said.
The 17-metre-tall missile has been tested several times before, but not at night, and local media said that the timing was aimed at sending a signal to Beijing.
Tensions with China have been running high since 20 Indian soldiers died in clashes on their disputed Himalayas border in June 2020.
The nuclear-armed neighbours have since reinforced the frontier with tens of thousands of extra troops.
The United States, Russia, China and North Korea have all tested hypersonic missiles and several others are developing the technology — including reportedly India.
New Delhi is working on enabling the Agni-5 to carry several nuclear warheads at once so they can split up and hit different targets.