Wednesday May 25, 2022
Imran Khan Vows To Reach D-Chowk at Any cost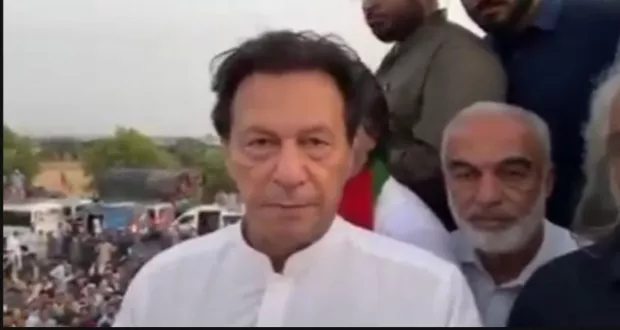 PESHAWAR: PTI Chairman Imran Khan while addressing the people heading toward the federal capital at Swabi Interchange, denied all reports of striking an agreement with the government. "We are heading towards Islamabad and there is no chance of settling an agreement with the coalition government."
"We will stay in Islamabad until the government decided to dissolve assemblies and announces election dates," he reiterated, adding that they will reach D-Chowk and no hurdle can stop them.
Speaking to a charged crowd, he called the incumbent government a "group of American slaves". The former prime minister acknowledged that his party workers and leaders were being arrested across the country, while several others were being harassed.
Imran also maintained that staging a protest was the party's right, adding that he would unite the country and make it a nation.
"All Pakistanis, women, children, families, youth, lawyers, retired army officers, everyone has to come out for real independence," he said.