Thursday April 21, 2022
Imran Khan Terms Present Govt 'Selected'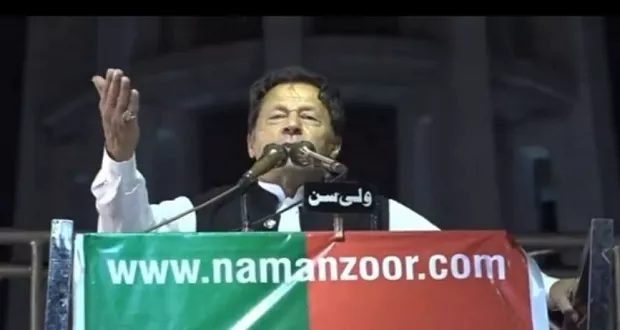 ISLAMABAD: Former prime minister and Pakistan Tehreek-e-Insaf (PTI) chairman Imran Khan while asking the masses wait for his call to Islamabad said that holding immediate elections is the only way to rectify mistake.
Addressing the messive rally at the Minar-e-Pakistan, Imran Khan thanked the people for turning out in a huge number at the Minar-e-Pakistan rally. He also thanked almighty Allah for making the huge crowd of people a nation.
"I knew the people of Lahore will not disappoint me," he said and added he has never addressed this huge rally throughout his political career.
He said that he will today give a plan of action to the people, adding that we will never accept the slavery and imported government.
The PTI chairman said that the government that came to power through conspiracy is scared of the election and those who polish shoes of imperials have been imposed on the country.
Imran Khan said a foreign country didn't like his visit to Russia, adding that relations with China, Russia and other Muslim countries were aimed at benefiting the nation.
He said Pakistan was running out of gas and he planned to sign a deal with Russia for gas, while Moscow was also ready to give us oil on 30 percent discount.
Khan went on to say that Russia also had plans to import 2 million tons of wheat and the purpose of his Russia visit was to benefit the people Pakistan.
"India was also a close partner of the United States (US) and the neighbouring country was also purchasing oil from Russia. The US had also pressurised India to end ties with Russia but New Delhi rejected it by saying that it will maintain ties with Russia for its nation."
He said that Pakistan witnessed record increase in exports, tax collection in the history and the best performance was of PTI government. Pakistanis sent $31 billion from abroad during PTI government's tenure and we collected the most tax revenue in the history of the country.
He said Pakistan had the lowest unemployment in the whole subcontinent, adding that PTI govt adopted the best strategy during coronavirus pandemic. We have saved the country and economy at the same time during pandemic.
Imran Khan further said a conspiracy was hatched against Pakistan and former president Musharraf bowed down even on one phone call. "I spoke against joining anyone's war at every forum and was named Taliban Khan," he said.
He said we formulated foreign policy for the benefit of our people as over 80,000 people sacrificed their lives in the war on terror and the war caused a loss of more than $100 billion. "I had taken up the issue of blasphemy and Islamophobia on every platform. However, they did not like my move to raise my voice on this issue." "I have never taken dictation from anyone nor I will do this in future."
Regarding Tosha Khana allegations, Imran Khan took a dig at his political rivals and said that allegations are being levelled against me that I'd taken gifts from Toshakhana. All gifts to the prime minister and ministers are sent to the Toshakhana.
The former PM detailed that a gift could be purchased by paying 15 per cent to the Toshakhana during the previous government. The payment rate was increased to 50 per cent during PTI tenure, he added.
"I'd purchased gifts from Toshakhana in a legal way. I had used the Toshakhana money to repair roads instead of putting the financial burden on the national exchequer."
Sheikh Rashid
Former interior minister and Awami Muslim League (AML) chief Sheikh Rashid Ahmed while addressing the rally warned that the civil war in the country will break out if anything happened to Imran Khan amid "security threats".
He lauded the people of Lahore for attending the PTI's public rally in large numbers. Regarding his recent KSA's visit to Umrah, Sheikh Rasheed said he saw women crying for Imran Khan at Roza-e-Rasool (PBUH).
The former interior minister held PPP co-chairman Asif Ali Zardari responsible for the assassination of Benazir Bhutto. "I will stand by Imran Khan till the last drop of my blood," said Rashid while addressing the charged crowd.