Thursday June 16, 2022
Imran Khan Targeting Key Institutions to Destabilize Country: Ahsan Iqbal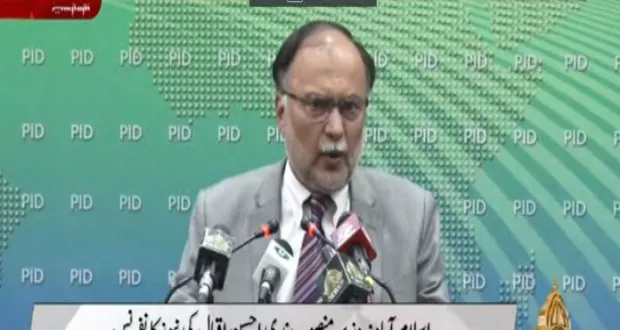 ISLAMABAD: Minister for Planning and Development Ahsan Iqbal Thursday said that former Prime Minister Imran Khan was targeting Pakistan's key institutions aimed at destabilizing the country.
He said Imran Khan was deliberately spreading anarchy against the country's key institutions. He said the social campaign against the state institutions was well planned and aimed at destabilizing the country.

Addressing a press conference here, the minister said "We will not let Imran Khan target the nation and the country's institutions through his negative politics.

He said due to the unprecedented increase in international prices of crude oil, the government had no option but to increase the local prices but still, the government had withdrawn all the taxes and levies on the petroleum products.

He said the country's current economic situation was due to the mismanagement of the previous government.

The minister explained that the economy of any country grows with the development activities, but unfortunately for the last four years, the country's development budget kept on decreasing instead of increasing.

"In 2018, when we left the government, Rs 1000 billion was allocated to both defense and PSDP. "

Today when after four years, I take over the charge, the allocation was Rs 900 billion, but only Rs 550 billion could be spent during the outgoing year due to fiscal constraints, he added.