Wednesday April 13, 2022
Imran Khan Says He Will Fight Till Last Ball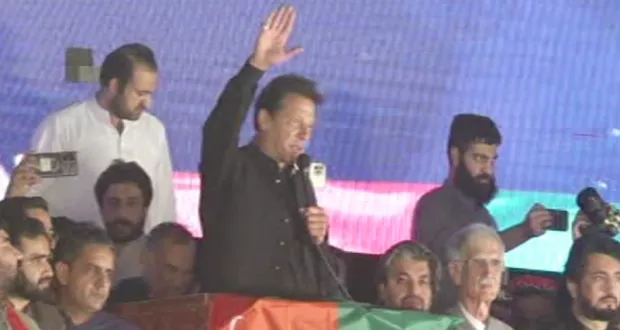 PESHAWAR: Pakistan Tehreek-i-Insaaf Chairman Imran Khan has asked the judiciary to explain why it felt the need to open its doors at midnight on Saturday, hours before he was ousted from the prime minister's office via a successful no-confidence motion against him in the National Assembly.
With the deadline set by the Supreme Court to hold voting on no-trust move fast approaching after a marathon NA session last Saturday, the apex court and the Islamabad High Court (IHC) had opened their doors beyond their notified timings. The vote was eventually held and saw Khan voted out from the top office.
The IHC has since explained that "as a constitutional court, it ensures that cases relating to extreme urgency are presented at any time after the notified timings."
Khan today, in what was his first public address since losing his government, directly addressed the judiciary, and asked: "My dear judges, my judiciary, I have spent time in jail because of your freedom because I dream that one day the judiciary would stand with the weak people of the society, and not the powerful.
"I ask the judiciary that when you opened the court in the dead of night … this nation has known me for 45 years. Have I ever broken the law? When I played cricket, did anyone every accuse me of match fixing?
"During my 25 years of politics, I have never provoked the public against state institutions or the judiciary because my life and death is in Pakistan. I ask you, what crime had I exactly committed that you opened up the courts at midnight?"
Khan addressed his successor and newly appointed prime minister Shehbaz Sharif and told him to stop the harassment of PTI supporters. "This crackdown that you're doing against our youth over social media … listen to this clearly … the day we give the call, you would not find a place to hide."
The former prime minister asked security institutions if the country's nuclear assets would be safe under the leadership of the Sharifs-led government.