Wednesday September 14, 2022
Imran Khan Doesn't Need Any Space Creatures: Asad Umar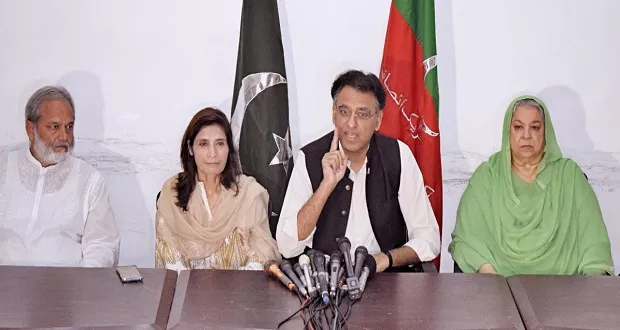 Lahore: Secretary General, Pakistan Tehreek-e- Insaf (PTI) Asad Umar has said that the party chairman not needed any space creatures while Imran Khan will himself decide a date of a Long March.
Talking to media in the party office, the PTI secretary general said that the government efforts to shut the party chairman speeches on the news channels, now the efforts are being made to black Imran Khan on the various platforms of social media.
Asad Umar said that 'imported government can't appoint on the vital post of army chief .
The party senator Saif Ullah Niazi, who is also the cousin of Imran Khan, house raided on excuse of "a website namanzoor.com and now the government is declaring the website illegal while it will be challenged in a high court.
The PTI leader questioned the Chief Election Commissioner (CEC) when he will make accountable for other parties on the funding case.
The corporate personality having the highest salary before joining the PTI, Asad Umar said that Imran Khan is not a personality attacking the judiciary and create difference among the judges while he always bow down to all the verdicts of the courts.
Regarding the opposition parties alliance PDM, he said that a whole of the imported system including its chief Maulana Fazal Ur Rehman are running away from the general elections.