Thursday June 30, 2022
Imran Khan Announces To Approach SC Against LHC Verdict Regarding Punjab CM Vote Recount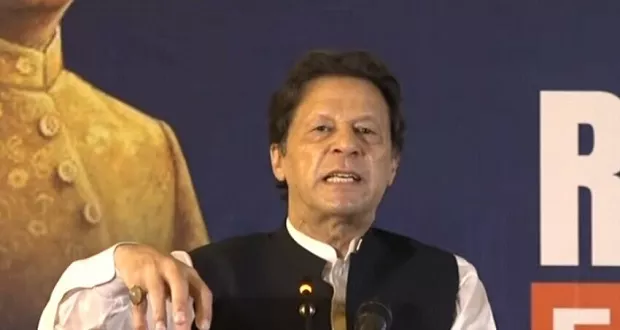 ISLAMABAD: Former prime minister and PTI chairman Imran Khan will approach SC against the Lahore High Court (LHC) verdict regarding Punjab CM vote recount.
Addressing a seminar in Islamabad, Khan questioned how could Hamza remain the chief minister when the court had agreed that the electoral process through which he came into power was "flawed".
Imran Khan said PTI is moving SC against LHC's verdict tomorrow. The former premier said what is happening in Punjab from last two and half months is in front of everyone, no one is bothering to take notice of the plight of the country's biggest province, he added.
He reiterated that no one has trust on the Election Commission of Pakistan (ECP). The only way to move forward is announcement of fresh elections.
Imran Khan claimed attempts are being made for pre-poll rigging in the Punjab by-polls.
Speaking about the alleged "foreign conspiracy", Khan said that he wishes that the Supreme Court forms a judicial commission, adding that the PTI has "all data regarding who visited which embassy."
"If a judicial inquiry is conducted, the truth will be unveiled," he said, lamenting that how can anyone insult the prime minister of 220 million people.
He revealed that President Arif Alvi has sent the cypher to the Supreme Court for an inquiry, adding that beneficiaries of the "regime change do not want an inquiry to be held."
The ex-premier said that he, along with ex-finance minister Shaukat Tarin, had warned the "neutrals" that if the economy collapsed, the country would not be able to recover.
"Today, inflation has reached sky-high levels, while the economy has collapsed," he told the people attending the seminar.
Commenting on the performance of his party during the last four years, he said that the first two years were tough; however, the third and last years proved to be successful.
The Lahore High Court (LHC) on Thursday ordered recount of votes in election of Hamza Shahbaz as chief minister of Punjab, in a landmark verdict.
A five-member larger bench of the high court, headed by Justice Sadaqat Ali Khan, approved petitions against the incumbent chief minister, PML-N's Hamza Shahbaz.
The bench has decided the case with 4-1 on the petitions challenging the election of Hamza on April 16. Justice Sajid Mehmood Sethi dissented the majority verdict.