Monday September 19, 2022
IHC Orders To Remove Terrorism Related Sections From Threat Case Against Imran Khan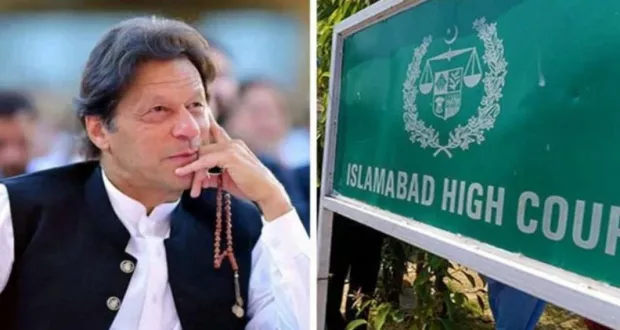 Islamabad: The Islamabad High Court (IHC) today (Monday) removed all terrorism sections from the FIR over hearing Imran Khan's petition for dismissal of the case against him.
The IHC heard the former premier petition seeking dismissal of the case against him on the terrorism charges.
On the court question, a special prosecutor Raja Rizwan Abbassi apprised the court that the terrorism sections apply in this case adding that a challan report has prepared for the case.
Counsel of the PTI chairman, barrister Salman Safdar argued that it needs basic necessary elements for imposing of
the terrorism sections adding that the terrorism case only can be made over creating an environment of terror and fear, the case can not be made on an expectation of such situation .
Chief Justice said to the prosecutor that if you registers such cases on speeches then a flood gate will open adding that apparently no any sections of terrorism imply in this case.
Honourable CJ said that the wrong use of lodging of a terrorism case used to happen, when you say there is nothing surfaced in the investigation except the speech then the design finish adding that you admitted yourself that there is nothing against them other than speeches.
The prosecutor contended "It is not said that any legal action will be taken but he (Imran Khan) said that we will take action," continuing his arguments, prosecutor said that if any SHO said "I will see you "which has its serious repercussions and results and in the same way the former premier inflammatory speech has its repercussions.
He argued that Imran Khan from his statement put the officers in danger.
After hearing the arguements from both the sides, the IHC ordered to remove terrorism sections from the case and retain the other sections entact in the case.
The court said that the case will run on sections other than terrorism sections while the case will also transfer from an anti terrorism court to a session court.