Sunday November 06, 2022
If Anyone From Sindh, Balochistan Talks Like Imran Then He Will Face Penalty At Menar-e-Pakistan: Chandio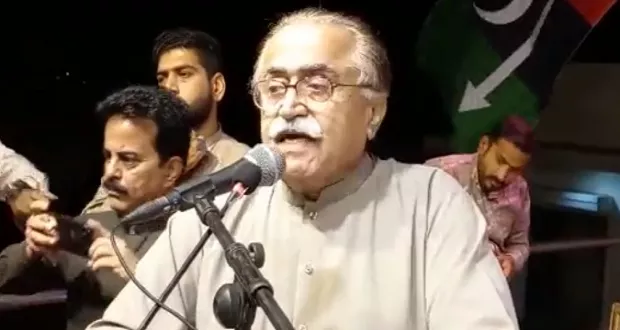 Hyderabad: Senator of Pakistan People's Party (PPP) Maula Bakhsh Chandio has said that Imran Khan is a apple of eyes today.
Addressing a rally in Hyderabad, the PPP senator said that if such talks like the PTI chief were talked by any person belong to Sindh and Balochistan then he will be given an examplary punnishment at Meenar-e- Pakistan.
Mula Bakhsh Chandio said that time has come once again to inform people that Bhutto is still alive today as well.
On the other hand, Senator Nisar Khoro said that Imran Khan who says politician to himself is not only a theif of toshakhana but he is a strife (fitna).
Nisar Khoro said that the PTI chief and former premier Imran Khan is dragging army in the politics for assuming power.
The post If Anyone From Sindh, Balochistan Talks Like Imran Then He Will Face Penalty At Menar-e-Pakistan: Chandio appeared first on Abb Takk News.