Thursday November 04, 2021
I Am Steadfast On Issue Of French Ambassador : Sheikh Rashid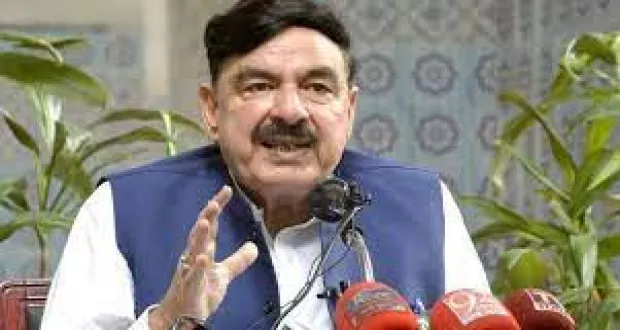 Lahore: Interior Minister Sheikh Rashid on Thursday said that the chief of the proscribed Tehreek-i-Labbaik Pakistan (TLP), Saad Rizvi, had insisted on the closure of the French embassy in his talks with the interior minister.

He was talking to newsmen after attending a ceremony of Rescue 1122 in Lahore on Thursday, the interior minister said: "[Contrary to what] one person — who is very respectable and is a major religious figure from Karachi — [says], when I spoke with Saad Rizvi, he was insistent on [the closure of the] French embassy and he was convinced that this [issue] be brought in the [National] Assembly.
"I have made signatures on this [previous agreement] and I am steadfast on this. As for the rest of the problems, two ministers have been appointed and they will answer your queries."
Responding to a question, Rashid said that he had received instructions from Prime Minister Imran Khan during the ceremony and "he said the instruction is this that [it is better] if one minister speaks [on the TLP issue]".
The interior minister's comments came after Mufti Muneebur Rehman dispelled the impression on Monday that the TLP had demanded the expulsion of the French ambassador and the closure of the embassy. He was among the clerics who had facilitated talks between the government and the proscribed group, helping both sides reach an agreement after an impasse of three weeks.
Interior Minister Sheikh Rashid Ahmed says the government is committed to fulfill agreement signed with the banned outfit TLP.
Sheikh Rashid Ahmed said that the PTI government will complete its constitutional term.
He announced that Rescue 1122 service will be introduced in the federal capital to facilitate citizens during emergency situations.
The Interior Minister said Rescue 1122 has earned worldwide fame due to its unprecedented services to humanity.
Sheikh Rashid Ahmed asked DG Rescue 1122 Dr. Rizwan Naseer to also introduce motorbike rescue service in the capital to reach the people living in the suburbs of capital.