Sunday July 24, 2022
Heavy Rains Turned Most of Roads, Highways and Arteries Into Rivers and Ponds In Karachi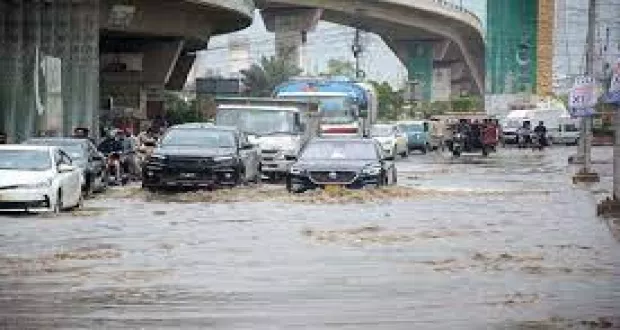 Karachi: Heavy rains lashed in the most parts of the city on Sunday which is predicted that it will continue to last till afternoon of Monday.
The heavy downpours have inundated the most highways, roads, arteries of the city owing to which passing of traffic turned the most difficult and interrupted the tarrific in the most areas of the city.
The heavyrains turned many roads of Karachi central into pond while Sher Shah Suri road in North Nazimabad and its adjoining roads turned into rivers.
The rains poured in Malir, Quaid Abad, Gulistan-e- Jauhar, Gulshan-e- Iqbal, PECHS,Sadar, Old City area, Cliftion, Defence.
According to Chief Meteorologist Sardar Sarfaraz said that the intensity of rains will further increase.
The highest rains recorded in Quaid Abad, after it Orangi Town, PAF base Masroor, Kemari, Gulshan-e-Hadeed, Nazimabad, North Nazimabad, North Karachi where heavyrains lashed.