Wednesday June 29, 2022
Govt Backtracks, Imposes Tax On People Earning 50k To One Lakh As Finance Bill-2022 Approved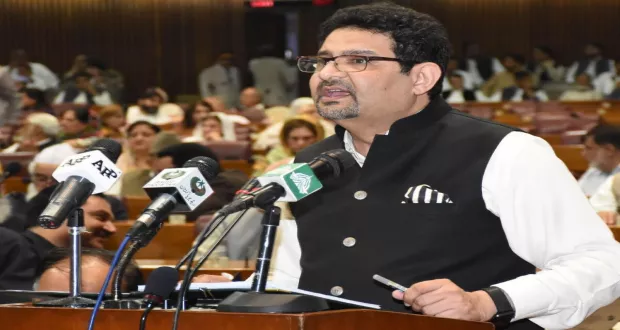 ISLAMABAD: National Assembly on Wednesday passed the Finance Bill-2022 after clause by clause consideration and adopting certain amendments in it.
Minister of State for Finance and Revenue Aisha Ghaus Pasha moved the motion for consideration of the Finance Bill, 2022 to give effect to the financial proposals of the federal government for the year beginning on July 1, 2022.
The motion was passed with majority vote which led to the passage of Finance Bill-2022 after clause by clause reading and adopting amendments after due process of voting.
All amendments moved by the Minister of State for Finance and treasury lawmakers were adopted by the House while the amendments of opposition members including Javaria Zafar Aheer (PTI), Wajiha Qamar (PTI), Ramesh Kumar (PTI), Saira Bano (GDA), Maulana Abul Akbar Chitrali (MMAP) and an Independent MNA Mohsin Dawar were rejected by the House after voting.
Having a total outlay of 9502 billion rupees, the budget 2022-23 encompasses measures for sustainable economic growth, industrial and agriculture development and relief for the poor people.
The budget envisages Federal Public Sector Development Programme (PSDP) OF 800 billion rupees for the next fiscal year. It has been centered on improvement in sectors such as water resources, transport and communication, energy, higher education, health, science and technology, and balanced regional development.
699 billion rupees have been set aside for targeted subsidies to extend benefit to deprived segments of the society.
The budget of Benazir Income Support Program has been increased to 364 billion rupees. In addition, 12 billion rupees have been allocated for the provision of subsidy on essential commodities through Utility Stores Corporation.
The salaries of government employees have been increased by fifteen percent along with a merger of adhoc allowances.
As regards taxation, the government has levied super tax on affluent class in order to reduce the budget deficit and take the country towards economic sovereignty.
The National Assembly passed an amendment in the Finance Bill to approve Rs 50 per litre petroleum development levy on all POL products.
Finance Minister Miftah Ismail told the house that 50 rupees per litre will not be imposed in one go. "Presently their is zero petroleum levy," he explained. The levy will be gradually increased by Rs 5 per month to reach a maximum of Rs 50, approved by the house.
The clause with regard to recovery of sales tax from traders via electricity bills and five percent tax on software and I.T. consultants was also approved by the house.
No tax imposed over Rs. 50,000 per month salary in the new tax regime for the salaried class.
The government has decided to impose greater tax on salaried individuals, the people earning between Rs. 50,000 and Rs. 100,000 per month would now be charged income tax of 2.5% while it is pertinent to mention here that in budget speech the government had announced exemption on salaried class earning up to Rs One Lakh.
For earners of Rs. 100,000-200,000 per month, a flat tax of 15,000 rupees per annum has been fixed, while the proposed tax rate has been jacked up to 12.5% for the amount exceeding 1,00,000 rupees.
Individuals earning between Rs. 2.4 million and 3.6 million per year would be charged a fixed rate of Rs. 165,000 in addition to 20 percent of the amount exceeding 2.4 million, while people whose taxable income exceeds Rs. 3.6 million but is below Rs. 6 million would be charged a fixed rate of Rs. 405,000 plus 25 percent of the amount exceeding 3.6 million.
Meanwhile, individuals with an annual income between Rs. 6 million and Rs. 12 million would be charged Rs. 1.005 million plus 32.5 percent of the amount exceeding 6 million, and anyone earning more than Rs. 12 million, would be charged taxes of Rs. 2.955 million plus 35% of the amount exceeding 12 million.