Tuesday December 13, 2022
FIFA WC 2022: Argentina To Face Croatia In First Semi Final Today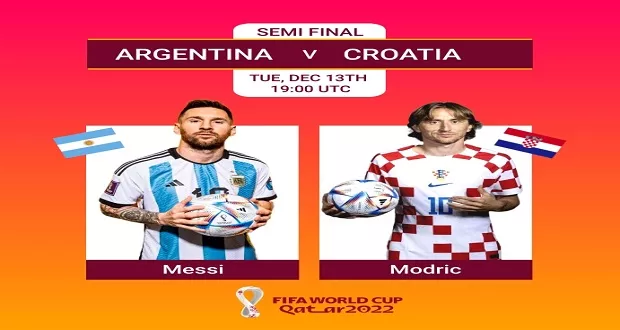 Doha: As per FIFA World Cup tradition, the two semifinals will take place on different days with one semifinal on Tuesday, December 13 and the other on Wednesday, December 14.
It does mean that one of the World Cup finalists will get an extra day of rest ahead of the final on Sunday, December 18.
The teams that come up short in the semis will have one final chance to end the tournament on a positive note in the third-place match happening on the eve of the final.
First Semi Final
Argentina vs Croatia
Date: Tuesday, December 13
Time: 2 p.m. ET / 7 p.m. GMT / 10 p.m. local in Qatar
Stadium: Lusail Iconic Stadium (Lusail, Qatar)
Croatia shocked the world by downing Brazil on penalty kicks in the quarterfinals and next they will face Argentina in the first World Cup semifinal on Tuesday.
Argentina will likely be the favorite against Croatia, but the match will be competitive. The European side knows how to keep things tight as their five matches thus far in Qatar have shown.
Croatia beat Argentina 3-0 in the group stage of the last World Cup and the teams' all-time record is even with two wins each and a draw. They split their only two World Cup meetings, with Argentina claiming a narrow 1-0 win in 1998.
How the semifinals work
Just like the previous knockout rounds, the semifinals will be single elimination and there must be a winner after each match.
So if there's a draw after 90 minutes of regulation, the teams will get 30 minutes of extra time to decide a winner. The extra-time session is not sudden death. (In other words, it's not a next-goal-win situation or 'golden goal'.)
How penalty shootout works
If the teams are still deadlocked after extra time, the match will proceed to a penalty shootout where each team takes turns trying to score from the penalty spot. The team with the most successful conversions after five attempts is declared the winner. If teams are still level after five kicks, they will tack on an extra round until the deadlock is broken.
The post FIFA WC 2022: Argentina To Face Croatia In First Semi Final Today appeared first on Abb Takk News.