Sunday January 08, 2023
Karachi Which Runs The Country Is On Criminals Target, Demands Protection To City From Govt: Hafiz Naeem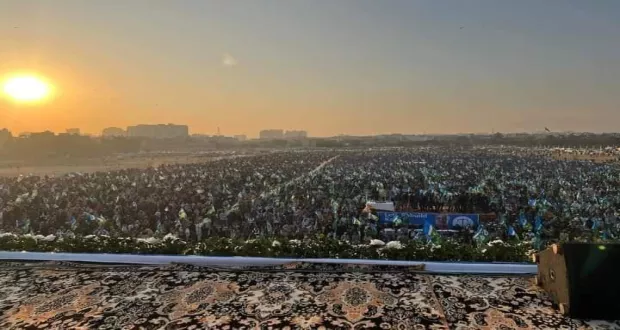 Karachi: Jamat-e-Islami (JI) Karachi chapter Hafiz Naeem Ur Rehman has said that some people are being broken while a time of make and break politics has ended.
Addressing a mammoth rally named " Ailan-e-Karachi" the JI Karachi chief said that the Election Commission of Pakistan (ECP) should keeping its point of view should hold the second phase of Local Bodies Elections in Sindh's divisions Karachi and Hyderabad transparent.
Hafiz Naeem Ur Rehman said that the ECP should refrain from any conspiracy and hold the local bodies elections on time.
He said that Karachi which runs the entire country is on criminals target while he demanded protection for Karachiites other wise he said that we will protect ourselves.
Hafiz Naeem Ur Rehman said that Pakistan People's Party (PPP) ruined the city in the last 15 years adding that only it brought 103 buses in the said period.
He said that the PPP could not complete any single project in a amicable manner adding that the state of corruption has reached up to the level that one road is constructed and other is gone destructed.
The JI chapter Karachi chief Hafiz Naeem Ur Rehman has demanded to hold the LG polls under the supervision of army.
Hafiz Naeem Ur Rehman also said that ruling Pakistan People's Party (PPP) wanted running away from the elections by using the shoulders of the Muttahida Qaumi Movement-Pakistan (MQM-P).
The post Karachi Which Runs The Country Is On Criminals Target, Demands Protection To City From Govt: Hafiz Naeem appeared first on Karachi News.