Tuesday September 28, 2021
Chehulum Of Hazrat Imam Hussain R.A Being Observed With Due Sole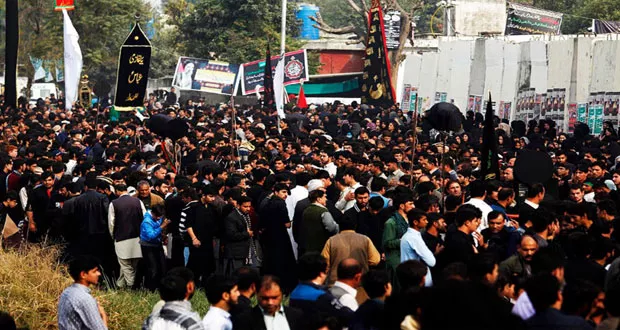 Islamabad/Karachi/Lahore: Chehlum of Hazrat Imam Hussain (RA) and his devoted companions is being observed with due solemnity on Tuesday.
To pay tribute to martyrs of Karbala, mourning processions will be taken out in all small and major towns of the country.
Strict security arrangements have been made to avert any untoward situation.
There will be no cell phone service in certain cities and routes around the Chehlum procession will be blocked off. Civil armed forces have been deployed and shops along the procession routes have been sealed. Pillion riding has been banned as well.
Lahore
The main procession emerged from Haveli Alif Shah from Dehli Darwaza and heading towards its deputed routes while it will be end after reaching Karbala Gamay Shah.
Karachi
The main mourning procession of Chehlum in Karachi will be taken out from Nishtar Park, which will end at Hussainia Iranian Imambargah in Kharadar after marching its traditional route.
Security Plan
Under the security plan, more than 5,000 policemen are deployed on the routes connecting to the venue of Chehlum's central procession, whereas, over 1,500 traffic police personnel are performing duties.
Moreover, the snipers of the Special Security Unit of the Sindh Police have also been deployed on different buildings.
Traffic Plan
According to the traffic plan, the road from Nishtar Park to the final point of the Chehlum procession at Imambargah Hussainia Irania near Kakri Ground is closed for traffic.