Sunday August 14, 2022
Change of Guard Ceremonies Held At Mausoleums Of Founder of Nation MA Jinnah, Allama Iqbal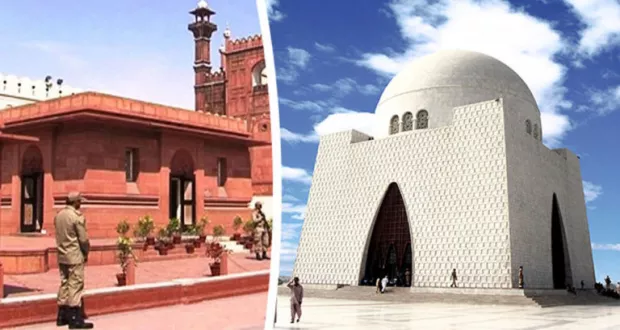 Karachi\ Lahore: The change of guard ceremony was held at Mazar-e-Quaid in Karachi on Sunday morning.
The cadets of Pakistan Naval Academy assumed the guard duties.
The Commandant of Pakistan Naval Academy Air Commodore Muhammad Khalid was the chief guest on the occasion.
Later, the chief guest laid a floral wreath at the Mazar and offered Fateha.
Change Of Guard Ceremony At Allama Iqbal Mausoleum In Lahore
A splendid ceremony of change of guard was held at Mausoleum of Allama Iqbal on the occasion of the diamond jubilee celebrations of the country's independence.
A smartly-tuned contingent of Pakistan Army took charge of honorary guards replacing a contingent of Pakistan Rangers.
Major General Shahbaz Khan was a chief guest of the ceremony who inspected the action of change of guard.
Later, he laid the flower wreath on the grave of the poet of East and did fateha Khawani.