Tuesday October 05, 2021
Cabinet Approves Observing Ashra-e-Rehmatul-il-Alimeen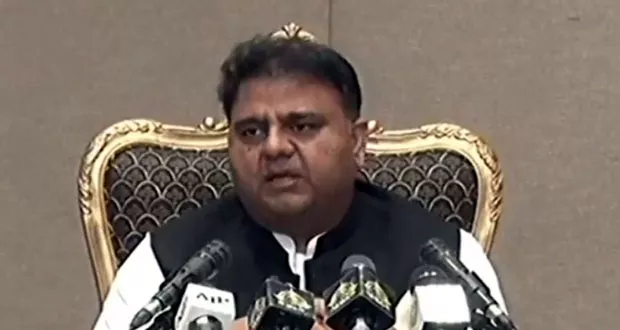 Islamabad: The cabinet has decided to grant amnesty in sentences of prisoners on the occasion of Eid Milad-un-Nabi.
Briefing media about the decisions taken in the federal cabinet, which met in Islamabad on Tuesday with Prime Minister Imran Khan in the chair, Minister for Information and Broadcasting Chaudhry Fawad Hussain said that the cabinet also approved celebrating Eid Milad-un-Nabi with utmost reverence this year. He said Ashra-e-Rehmatul-il-Alimeen will be observed from 3rd of Rabi-ul-Awwal.
The Minister said the cabinet also approved that next census will be held as per de-jure rules and regulations. He said rules and procedure for next census will be presented before the Council of Common Interest for approval. He said modern technology will be used in the next census, while all other organizations like NADRA will cooperate for this purpose. He said delimitation of constituencies will be undertaken in the final phase of the census.
Chaudhry Fawad Hussain said the cabinet approved a relief of seven rupees per unit on consumption of electricity for consumers, who will shift their heaters and geysers from gas to electricity during winters and consume less gas.
Talking about government's plan on using Electronic Voting Machines in next general elections, he said Prime Minister's Advisor Dr Babar Awan briefed the meeting that opposition was invited to come up with its recommendations on EVMs, but to no avail. He said the government will take this matter to the joint session of the parliament, but at the same time it will continue convincing the opposition over this issue. He said the government is working on electoral reforms, including the use of EVMs, to ensure free, fair, transparent, and credible elections in the country.
The Minister said the cabinet was also briefed on the revelations made in the Pandora Papers. He said the Prime Minister Office has established a Cell under Prime Minister Inspection Commission to investigate the people mentioned in the Pandora Papers. He said all institutions like FBR, FIA, and NAB will do their homework in this regard.
Regarding doctors' protest against a professional exam, Chaudhry Fawad Hussain said it seems strange that they want to become doctors without getting their fitness checked. He said we cannot take any risk on people's health.
The Minister said the cabinet was told that bumper crop of wheat, sugarcane, rice and maize is expected this year, which is a good omen for country's economy.
He said all ministries have been linked with e-procurement to ensure transparency in the tendering process.
Chaudhry Fawad Hussain said that a three-member cabinet committee has been constituted to review any irregularity in the power and road contracts.