Saturday January 21, 2023
Azam Khan Sworn in as Caretaker KP CM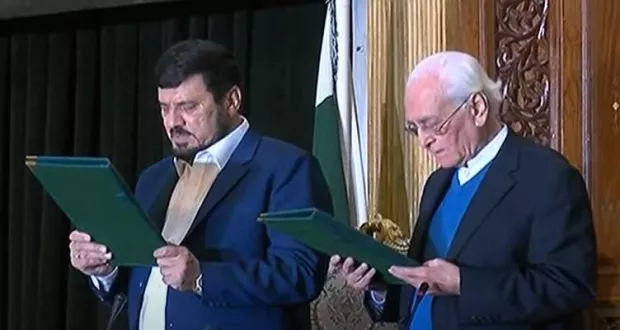 PESHAWAR: Khyber Pakhtunkhwa Governor Ghulam Ali on Saturday administrated oath to former bureaucrat Azam Khan as the caretaker chief minister.
Earlier, the governor issued the order after outgoing Chief Minister Mahmood Khan and leader of opposition Akram Khan Durrani unanimously nominated the name of Azam Khan for the position in a surprise move on Friday.
"I, AM GHULAM ALI, the Governor, Khyber Pakhtunkhwa, hereby appoint Mr. M. Azam Khan, as the Caretaker Chief Minister Khyber Pakhtunkhwa, in terms of Clause (IA) of the Article 224 of the Constitution of Islamic Republic of Pakistan 1973," the governor's order reads.
The post Azam Khan Sworn in as Caretaker KP CM appeared first on Abb Takk News.